กก

We have crossed the North American Continent again - the 7th crossing by car.

1st. Week of the Trip (6/9 - 6/15)

We left the home on 6/9 and arrived Ashburn, Virginia - about 40 miles northwest from Washington DC - on 6/15 where Jane's sister Young-Hyuk lives, just 1 week later driving 2,927 miles in 7 days. We have made 3 round trips crossing the continent (1975, 2000 and 2008) driving 6 one way drivings already and this is the 7th. crossing of the continent.
When we cross the continents, we visited here and there on the way to visit friends/relatives and see popular places - mostly national parks. However, this time, it is to attend the wedding of Yo-Yoon/Young-Hyuk Cho's son in Boston and we drove directly to Ashburn with shortest roads, though we stopped one night on 6/14 in Columbus, Ohio on the way to visit my nephew Dr. Seong-Koo Cho, MD there.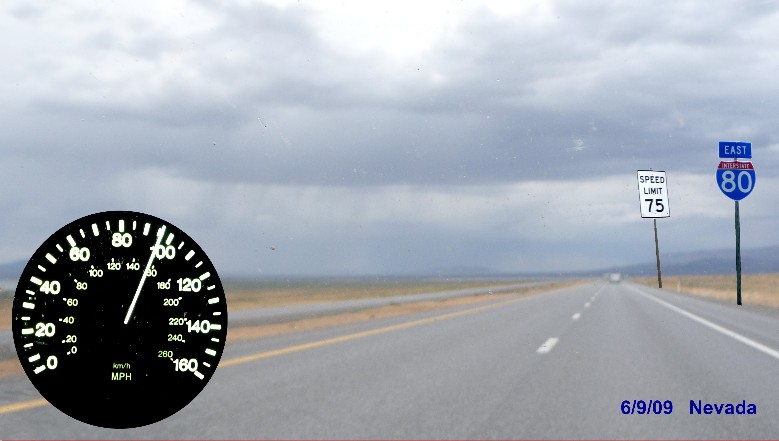 On the first day, we left home at 9:50 AM and drove 415 miles arriving Winnemucca, Nevada at around 5:00 PM, just as planned. We usually stopped by Reno to visit casino whenever we passed Reno, but we just passed Reno without stopping this time. After the Reno, very soon, the speed limit of Interstate Highway 80 went up to 75 miles/hour and we drove average 90 miles/hour, some times upto 95 miles/hour, as there were not many cars in Nevada. (This is very confidential information !!! Please do not report to DMV.....)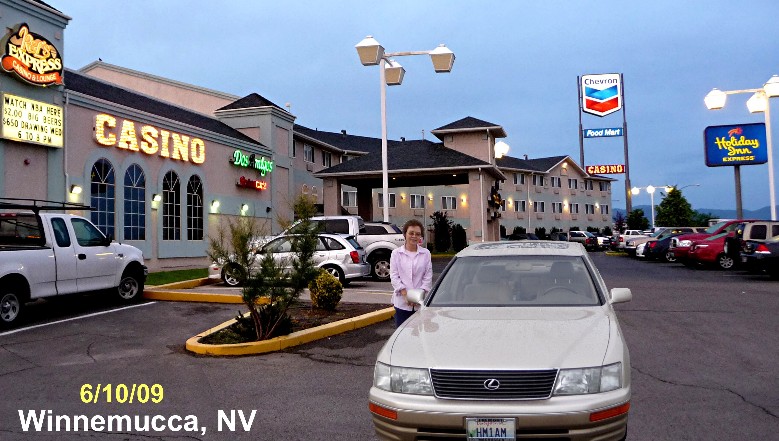 At the Holiday Inn Express in Winnemucca, Nevada where we stayed the first night and ready to roll on the second day in the morning.
Whenever we travel around, we stay usually at Holiday Inn Express. The reasons we like Holiday Inn Express are :
First of all, Holiday Inn is not a expensive top class luxuray hotel but not a cheap low class either. They are middle class clean and comfortable hotels or motels, not too big but not too small either. I don't need to be bothered by porter to carry my luggages but I can move from the car in front of room door many cases. It also has the largest number of hotels/motels all over the U.S.A. making very easy to find even in a small town in the middle of deep mountains too where we travel a lot. Also, it is very easy to make reservations for a whole trip just logging in to their web site once. In addition, I have been a member of the "Priority Club" for a long time and accumulated points with which I can have a free stay just as airline mileage.
Especially, Holiday Inn Express serves free buffet style nice breakfast (It is not a continental breakfast but has bacons or sausages with eggs too.) which is very convenient for me not to look for a restaurant in the early morning and waisting a lot of time waiting the meal to be served. It also has free internet service without exception which is a "MUST" for me during the travel.
We left Winnemucca at 7:30 AM, little early in the morning, on the 2nd. day, drove 375 miles and arrived at Park City, about 35 miles east from Salt Lake City. I don't like a hotel/motel in the crowded city but like to stay less crowded outside of the city. Park City is at the start of the Rocky Mountains and it's altitute is about 6,500 ft above the sea level.
We left Park City at 8:15 AM and crossed Rocky Mountains on the 3rd. day driving 419 miles arriving at Cheyenne, Wyoming by 3:10 PM, quite early of the day, as we drove almost 90 MPH for most of the day. We drove the day the top of the Rocky Mountains upto 8,000 ft altitute for the most of the day.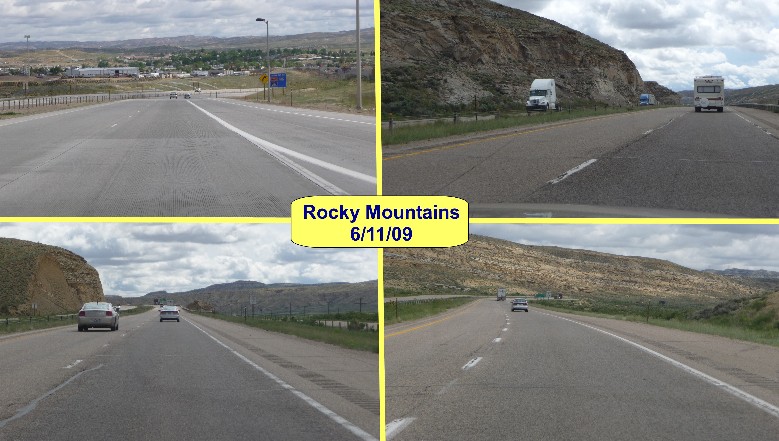 กก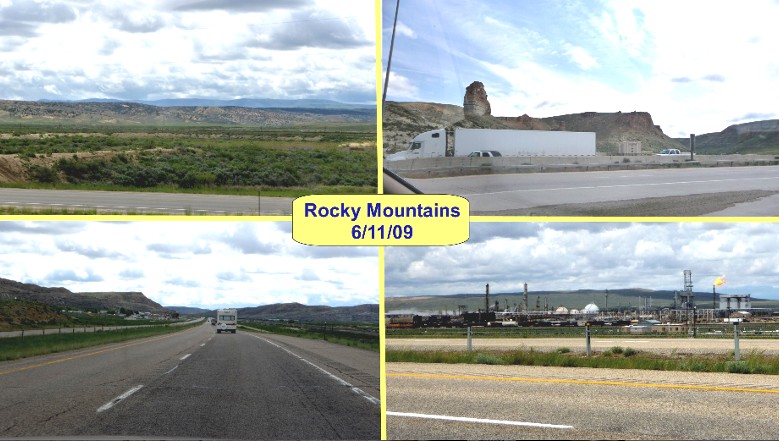 The above pictures show the top of Rocky Mountains which do not look like the top of high mountains but a part of flat land. They even had a oil field with refinary facility as shown at the bottom right.
However, we had unexpected problem on the 3rd. day at high altitute. Because of low oxygen level, we felt short breathing, minor headaches and some tiredness. We passed high mountains many times in the past, but never experienced this kinds of problem, even last year. It looks like we are getting older, year by year now. After we left Cheyenne, the altitute became significantly lower and we felt much better from the 4th. day. (We might be too old to cross the continent now and this might be the last one we can do.)
On the 4 th. day, we drove 449 miles from Cheyenne to Lincoln, a small city in Nebraska, leaving Cheyenne at 8:30 AM and arriving Lincoln at 4:50 PM. After the Cheyenne, it was the start of the Central Plain of U. S. A. - continuous flat land all the way without even a hill.
The 5th. day was very much the same driving the flat Central Plain from Lincoln to Galesburg, IL. We left Lincoln at 8:20 AM and arrived Galesburg at 3:10 PM, very early though we drove 416 miles, as we could drive very fast for the most of the day. the Galesburg is a small town on Highway 70, as we left Highway 80 and turned to Highway 70 South at the end of the day to go to Columbus, OH next day.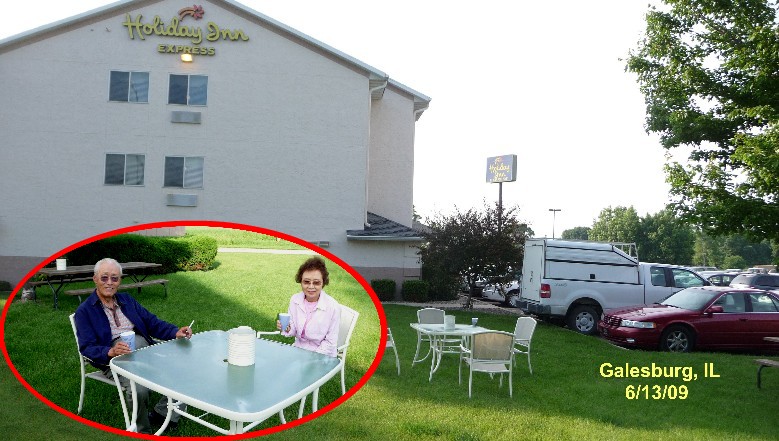 Holiday Inn Express Galesburg had a nice and quite large lawn area with comfortable table and chairs for the guests to relax there. It looked like it was arranged for the smokers as there was a large can as a ash tray on the table. The weather was great - not hot, not cold - and we sat there for a while relaxing together after the dinner.
We arrived Columbus, Ohio after driving 6 days from San Jose on 6/14. We left Galesburg earlier than planned at 8:00 AM, drove 446 miles and arrived my nephew Seong-Koo's home in Columbus at 4:30 PM. After relaxing for a while and talking all kinds of subjects at Seong-Koo's home, Seong-Koo took us to a Japanese restaurant "Akai Hana" where we enjoyed the Japanese foods very much last year when we visited them during the Trans-Canada/USA Trip last year.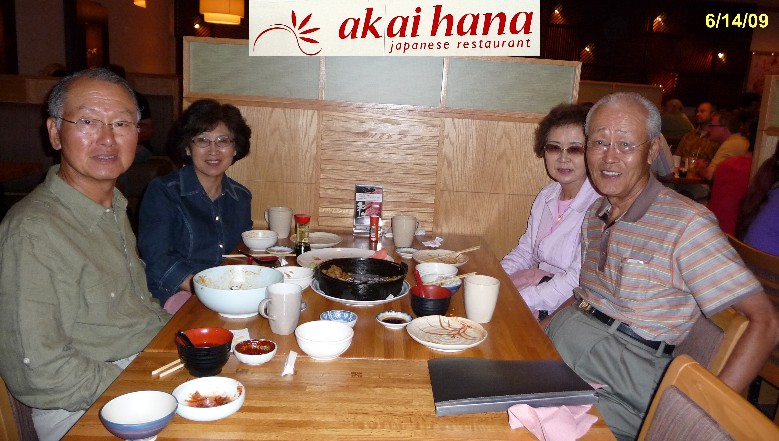 Seong-Koo moved to this house last year. When we visited them last year, they were going to move to this house soon, but not moved yet. This was the first visit to this house for us.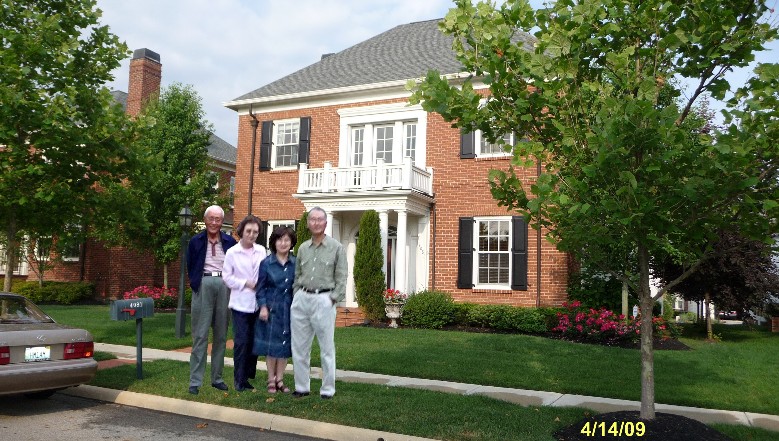 We have finally cross the continent again driving total of 2,927 miles and arrived Ashburn on 6/15 Monday after 7 days of driving. We left Columbus at 9:30 in the morning, drove 407 miles and arrived Ashburn, VA at 5:00 PM on the day, where Jane's sister Young-Hyuk lives and it is only about 40 miles from Washington DC to northwest. The first reason of this trip was to attend their son Abe's wedding at the Boston area on 6/19 Sat., just a few days later.
Jane's brother Bo-Hyuk arrived there from Korea few days earlier than us on 6/11 Thursday last week and we met him after many many years.
On the day of our arrival, Young-Bae, the son of Jane's eldest sisiter, living in Washington DC, arranged a great dinner for all of us at a BBQ restaurant called " Famous Dave's BBQ" where we enjoyed a wonderful BBQ dinner last year when we visited here during Trans-Canada/USA Trip.


We are going to stay here for a 3 nights, go to the Boston on Thursday 6/18, attend Abe's wedding on 6/20 and drive back to San Jose with Bo-Hyuk together who will leave for Korea on 7/7 from San Francisco airport after staying at our house for about a week.
Continued........ Click right red arrow below for the 2nd week story.
กก