9th. Driving Trip around N. A. Continent - crossing 18 times.
7/6 - 8/6, 2017 (제 5 부 7/26 - 7/29)
We are going to drive around North American Continent again - our 9th. drive around - during 7/6 - 8/6 (one month). By this driving, we will achieve 18 times of crossing the continent. We would like to have another one next year to achieve 10 times of driving around the continent in our life, though we are not sure whether we could do it next year or not ??????
이번여행도 작년에 이어 미국과 캐나다에 있는 햄 친구들을 만나기 위한 여행익 때문에, 이 기햄문 속에는 햄 용어가 많이 튀어나옵니다. 햄용어에는 전신약어라하여 전신통신에 쓰이는 약어로 예컨대 OM = Old Man 식이나, 햄들이 OM이라고 할때에믄 늙은이라는 뜻은 전혀 없고, Mr., 선배, ---씨등의 존칭입니다. 또하나의 기호는 Q부호라하여 QAA - QZZ의 Q로 시작되는 부호에 의미를 준것으로, 예컨데 QTH = 위치, 주소등의 뜻이고, QTC= 할말이 있다, QRV = 준비완료라는 뜻입니다. 이런 용어들은 그때 그때 설명을 부치겠으나 많이 쓰이는 몇가지를 소개하면.....
YL = Young Lady (젊은 여자가 아니고 "여자"를 총칭함. OL=Old Lady라는 말은 전혀 사용치 않음.)
XYL = ex-YL 전에 YL 즉 Girl Friend였다가 지금은 XYL 즉 "부인"이라는 뜻임
73 = 약자는 아니고 남자에게 보내는 Good Bye.
88 = 73와 같이 여자에게 보내는 Good Bye.
hi hi = ㅎㅎㅎㅎ 웃음소리
As this trip was the same trip as the last year to visit Korean ham radio friends, there are some ham radio languages which can not be understood by non-ham readers. They look like secret codes but they are not. They are all official telegraphic codes used by all radio operators including commercial radio operators too. There are two kinds of codes - one is telegraphic codes (abbreviations) and Q-codes, both just to make telegraphic transmissions shorter and easier. Here are a few of them used very frequently by ham radio operators.
YL - Young Lady (This does not mean by age. All women are YLs. There is no code of OL=Old Lady. Why? ask to ladies)
XYL = ex-YL. Previously YL Now "Wife".
OM = Old Man (Not old men by age, but by ham radio experience. This is also used as Mr. to all men.)
YM/YB = Young Man/Young Boy (Again. Not by age, but by experience. there could be 80 years old YB and 20 Years old OM)
73 = Good bye to Men. 88 = Good bye to women. (Sources of origin - unknown)
hi hi = pronounced "hai hai". Laughing or smiling.
QSO = Contact/Talking, QSY=Move, QTH=Location/Address, QRV=Ready, QRT=Stop/Discontinue, QRX=Wait etc. etc.
그외에 아마츄어들의 호출부호가 많이 나오는데, 이 호출부호는 각국정부가 무선국에 지정한 부호로, 아마추어는 개인이다 보니까 이름과 같아, 햄들 사이에서는 이름대신 많이 쓰입니다. 아마추어들의 호출부호는 가운데에 반듯이 숫자가 하나들어있어, 그앞의 한자 내지 두자는 전치부호라하여 그무선국의 국적을 표시합니다 예컨데 :
HL, DS, 6K = Korea (HM = 1960년대의 초기에는 한국의 전치부호였으나, 지금은 북한으로 넘어갔음),
VA/VE = Canada, A, N, W = U.S.A. (Such as AD6XI, NB2O. KE6AJ etc,)
In addition to these codes, there are call signs. All radio stations, any kind, in the world has own call sign which are same as names.
Just as HLKA, HLKB for Korean broadcasting stations, JOAK, JOBK for Japanese broadcasting stations.
The first one or two letters represent the nationality. HL, DS, 6K represent Korea. W. K. AA-AL represent U.S.A. JA-JS = Japan.
Only ham radio station has one number after these nationality codes, usually representing more detailed location.
HL1 = Seoul, HL5 = Kyungsang Province. W1=Northeastern states of U.S.A. such as NH, RI etc. AA4=Florida, K6=California
One, 2 or 3 letters after these numbers are called suffix and represents each individual stations.
KE6AJ : KE =U.S.A. KE6 = California KE6AJ = My ham radio Station. There is no any other radio station with KE6AJ in the world.
Therefore, we use this call sign instead of his/her name. There could be same names for another persons but no same call sign in the world.
A few prefixes (Nationality codes) : HL/DS/6K = Korea, W/K/AA-AL = U.S.A. VA/VE = Canada JA-JS = Japan
HM was the prefix of Korea earlier but it represents North Korea now.
제5부 Part-5 7/26 - 7/29
제21일 Day-21 7/26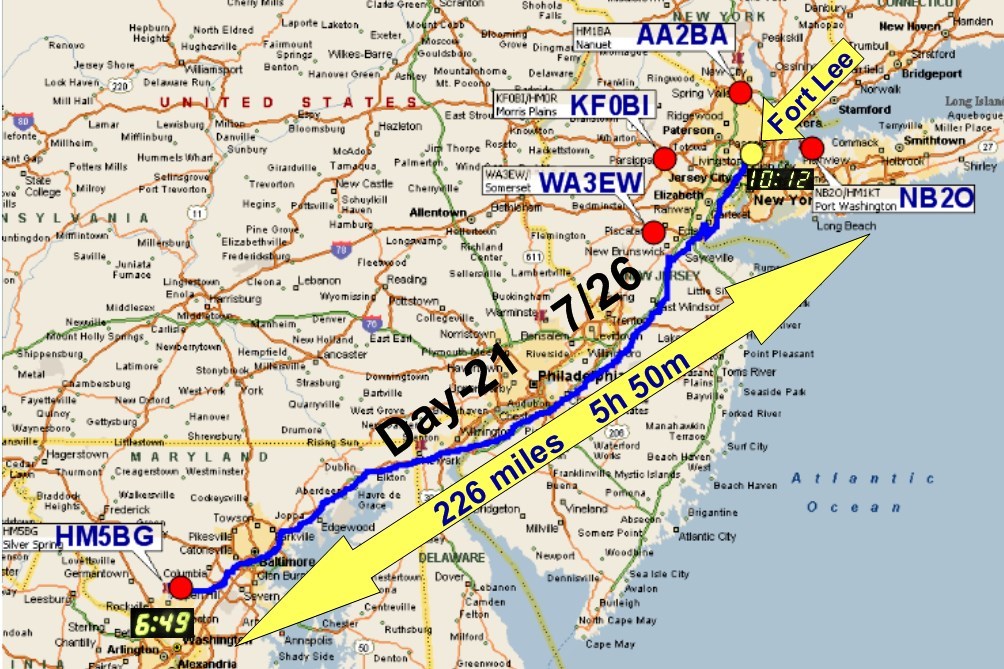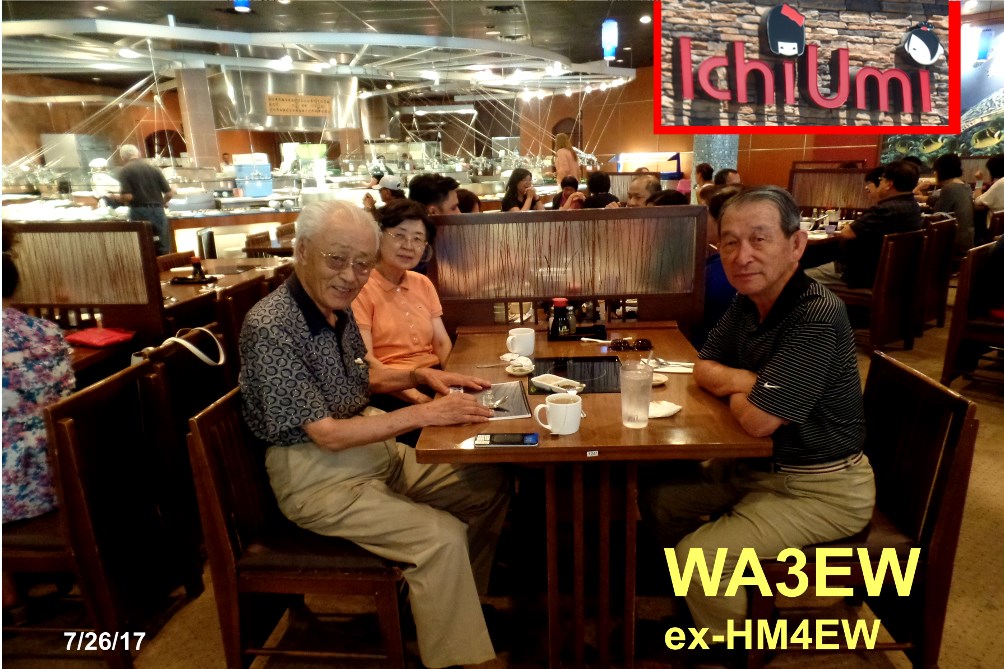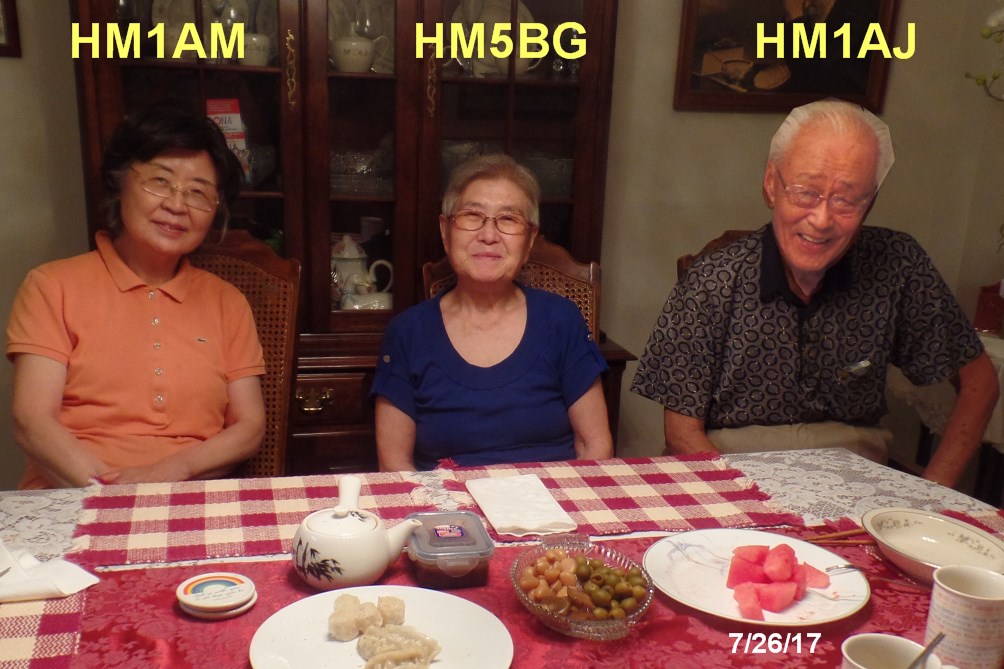 New York지역의 운전은 소요시간을 에상하기가 무척 힘듭니다. 그래서 여유시간을 충분히 주고 떠나면 대개 너무 일찍 도착합니다. 오늘도 낮 12시에 WA3EW OM과 낮 12시에 약속을하였는데, 장소가 Edison시로 New Jersey주의 남단에 가까워, 충분한 시간여유를 갖이고 떠난다고, Navigator는 한시간이 걸린다고 예상했는데 10시 조그 넘어서 Fort Lee를 떠났읍니다. 그런데 가다보니 New York으로 들어오는 차는 많아도, 나가는 차는 적어 너무 일찍 도착하게 생겼읍니다. 그래서 Truck뒤를 졸졸 따라가며 되도록 서행을 했는데, 서행이 고속운전 보다 더 힘들었읍니다. hi hi. 그렇게 최대한의 서행을 했는데도 목적지에 도착하니 11시 15분으로, 45분이나 일찍 도착했읍니다. hi hi
To go some place, it is very hard to predict how long it will take in New York area. Therefore, if you give enough time leaving much earlier, you arrive too early most cases. Today, I had an appointment with WA3EW OM to meet at 12:00 noon at the Edison city at extreme southern tip of New Jersey, Navigator predicted one hour but I left Fort Lee one hour further earlier at 10:00 AM. However, there were many cars coming in to New York but not too many going out. Therefore, I followed a truck to drive as slowly as possible and found the slower driving is harder than faster driving. hi hi. I drove as slower as possible but arrived to the destination at 11:15 AM, 45 min. too early.

그러나 WA3EW/ex-HM4EW 김석한 OM은 가까이서 오는데도 도로가 붐벼, 10여분을 늦게 도착하였읍니다. 작년에 처음으로 만난 OM으로, 반갑게 만나서, Ichi Umi (一海?)라는 일식 부페식당에서 점심을 먹으며 오후 2시 까지 근 두시간을 정말 재미있는 Rag Chew를 했읍니다. 화제는 자기가 한국에서 ham radio를 시작할 당시의 얘기가 주류를 이루었으나, 나도 KARL 초창기 얘기를 많이 했고, 서로 아는 OMs (HM1CO, HM1AQ등)의 소식을 교환하기도 했는데, 그러다 보니 2시간이 순시간에 지나가, 나는 다시 약 200마일을 더 남으로 내려가 ex-HM5BG댁을 방문하기로 되어 있기 때문에, 할수없이 오후 2시경에 73를 하고 혜여져야 했읍니다.
However, WA3EW/ex-HM4EW Kim OM coming from local had a traffic congestion and arrived about 10min. late. We met last year for the first time and we were very glad to meet again this year. We went to a Japanese buffet restaurant called Ichi Umi (One Sea?) and talked until 14:00 PM taking lunch together. The subject we talked was mostly the stories of his very early time of ham radio life and I talked about very early time of KARL. We exchanged latest news of OMs we know together (HM1CO, HM1AQ etc.). 2 hours have passed so fast but I had to go to ex-HM5BG at about 200 miles further south and had to say 73 at 14:00 PM.

그러고 남으로 달리기 시작했는데, 달린 고속도로가 95번 유료도로로, 요금소를 지날 때에 현금을 내는 gate가 최좌측에 있어 요금을 내고 앞으로 나가다보니, 95번 도로 남행선 입구는 요금소를 자니자마자 100m도 안되서 바로 오른 쪽에 있으니 갑자기 10여개의 차선을 바꿔서 급작 스럽게 오른 쪽의 95번 남행선 입구에 들어갈 시간적 여유도 없어, 나도 모르게 95번 북행선으로 반대방향으로 들어가 버렸읍니다. 특히 New York에 이런 도로가 많고, California같으면, 애당초 이런 무리한 도로는 만들지도 않았고, 혹시 잘못 들어서도 다음 출구에서 나가면 U-Turn하여 반대 방향으로 금방 바꿀수가 있는데, New York지역에서는 그게 안됩니다. 오늘도 다음 출구에서 나와 보니 점심 먹든 Edison시로 되돌아와 있고, 같은 요금소를 다시 통과하여, 이번에는 힘들게 10여개의 차선을 오른 쪽으로 빨리 바꿔 95번 남행선으로 바꿨지만, 결과는 통행료를 두번이나 내고 약 30분의 시간 낭비를 했읍니다. (최악의 case는 작년에 Manhattan에서 George Washington Bridge를 거쳐 Fort Lee로 오는데, 도로 표지판들이 명확하지도 않고, 일단 잘못들어서면 즉시로 돌아가지도 못해, 어떻게 하다 보니까 George Washington Bridge를 세번이나 지나서 교량통과료만 $15 x 3 = $45를 내고 시간도 무척 손해본일이 있읍니다. hi hi) New York에 사는 사람들은 길에 익숙하니까 큰 불편이 없는 모양인데, 우리 같이 도로 system이 잘되어있는 곳에 있다가 온 사람들은 곳곳에서 골탕을 먹을수 밖에 없읍니다. hi hi.
Then, I started to drive turnpike of highway 95 to south. The gate to pay cash was at the extreme left, paid fee and found the exit to south was at the right in less than 100m. There was no time to change lanes all the way from extreme left to the extreme right in less than 100m. I had no choice but to drive to exit to north. There are many places like this in east coast. In California, they will never make this kind of stupid road and you could return back at immediate next exit if you get in to a wrong exit. However, it is impossible in New York area and I have found I was back to original Edison city when I exited at the next exit. I paid the fee again and extremely slowly changed so many lanes to the right and could get in to the south entrance this time. As the result, I paid fee twice and it caused about 30 min. delay. (The worst case was I paid George Washington Bridge fee 3 times last year to come from Manhattan to Fort Lee.) People living there might know this problem well and could avoid it, but the stranger like me has no choice but to fall in this kind of trouble often. hi hi

어쨌든 이런 역경을 거쳐 HM5BG댁에 도착한것이, 예정보다 한시간이나 늦은 저녁 7시가 다 되어서였읍니다. HM1BG YL은 슬하에 아들하나 딸 넷으로 큰딸은 한국에 있고, 한딸은 North Carolina에 있지만 두 딸이 근처에 살고 있어, 어머님을 많이 도와주고 있읍니다. 오늘도 망내딸이 와서 어머님을 도와주고 있었는데, 부산에서 함께 살든 시절에는 아직 국민학교에도 안들어갔든 딸이 지금은 60이 넘었다니, 우리가 늙을수 밖에요. hi hi. 그런데 HM5BG YL은 지난 3월에 침대옆에서 옷을 입다가 쓰러저 둔부를 크게 다쳐서 병원에 입원하여 수술울 하였답니다. 다행이 큰 부상은 아니어서 다행이었지만, 아직도 매일의 일상 생활에는 큰 문제가 없으나 멀리 나들이는 못한다네요. 하루 속히 완쾌되기를 기원합니다.
Anyway, we arrived to HM5BG's QTH after 19:00 PM, more than an hour later. HM5BG has one son and 4 daughters. The eldest daughter is in Korea, one daughter lives in North Carolina but two daughters live nearby who help mom very much. Today too, the youngest was helping mom for dinner preparation for us. When we all lived in Pusan, all daughters were too young for elementary school but they are all more than 60 years old now. We found HM5BG slipped at bed side changing clothes in last March, hospitalized and had surgery. Fortunately, it was not too serious and she had been recovered very well. She doesn't have any problem for daily life now but she said she could not travel yet. We hope she could recover 100% soon.

오늘은 망내 따님과 함께 저녁을 차려놓고 7시경에 우리가 올때까지 기다렸는데, 우리가 도착한 후에는 밤 9시가 넘을때까지 재미있는 옛 이야기를 많이 하다가, 88을 하고 혜여질수 밖에 없었읍니다.
Today, they waited us until after 19:00 PM and we talked until 21:00 PM and had to say 88.


제22일 Day-22 7/27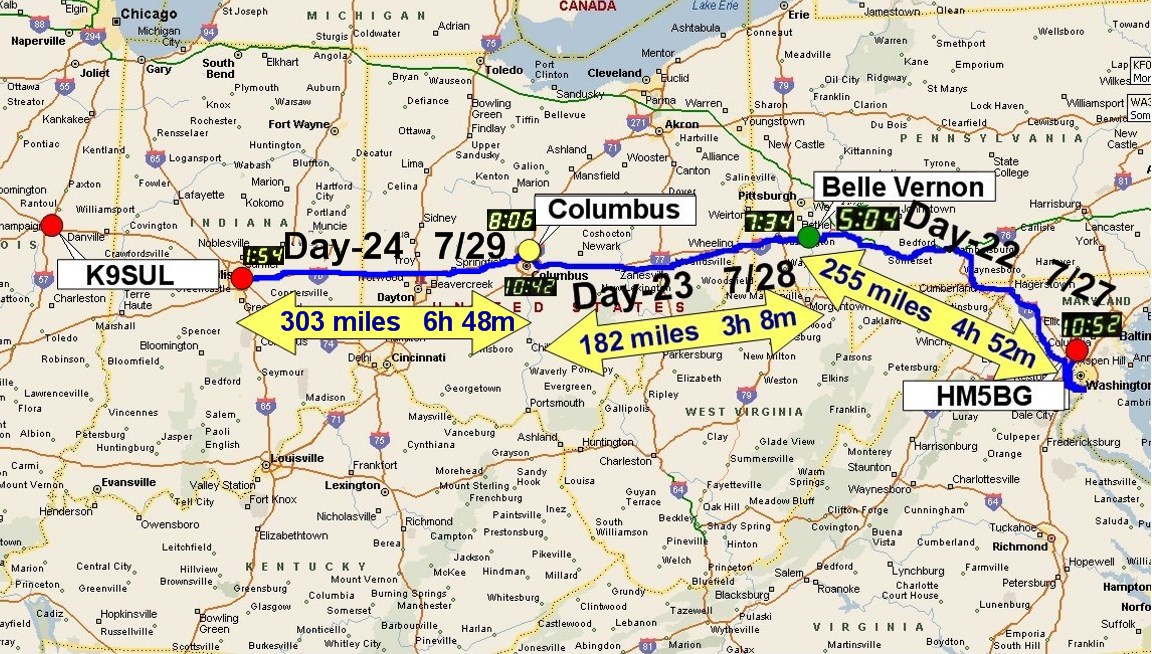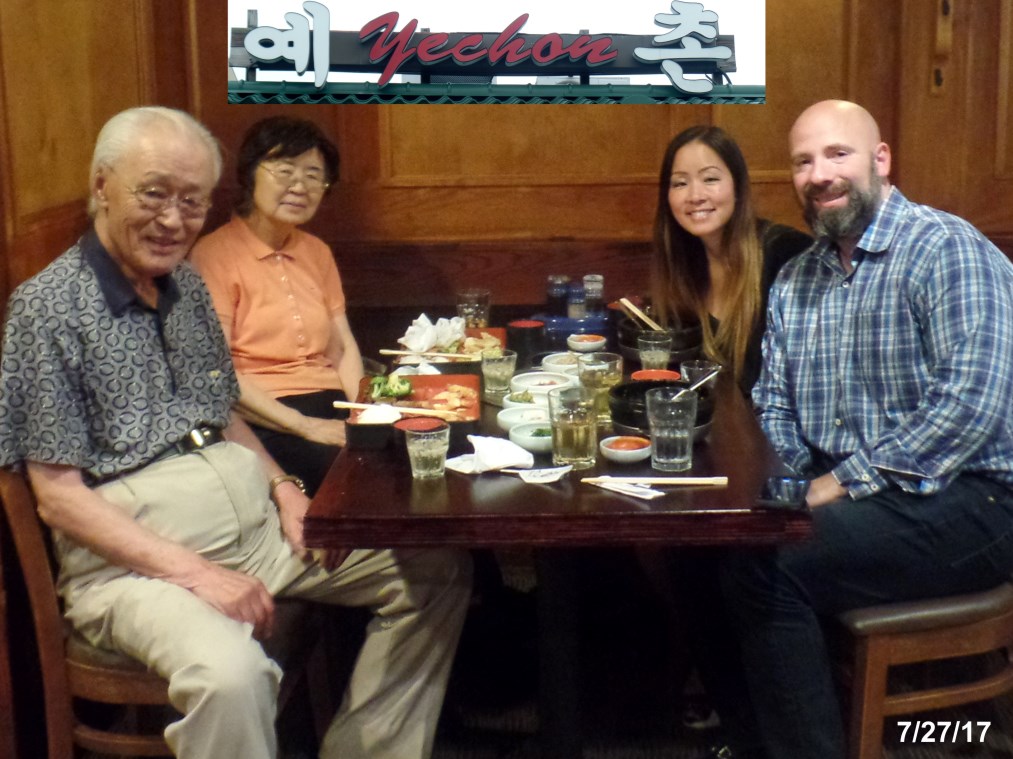 We have had lunch together with Michelle Cho, the 2nd. daughter of HM1AB, with her new boyfriend Greg at Korean restaurant Yechon at south of Washington DC. She was going to diverse with current husband and was going to remary to Greg in this October.
제24일 Day-24 7/29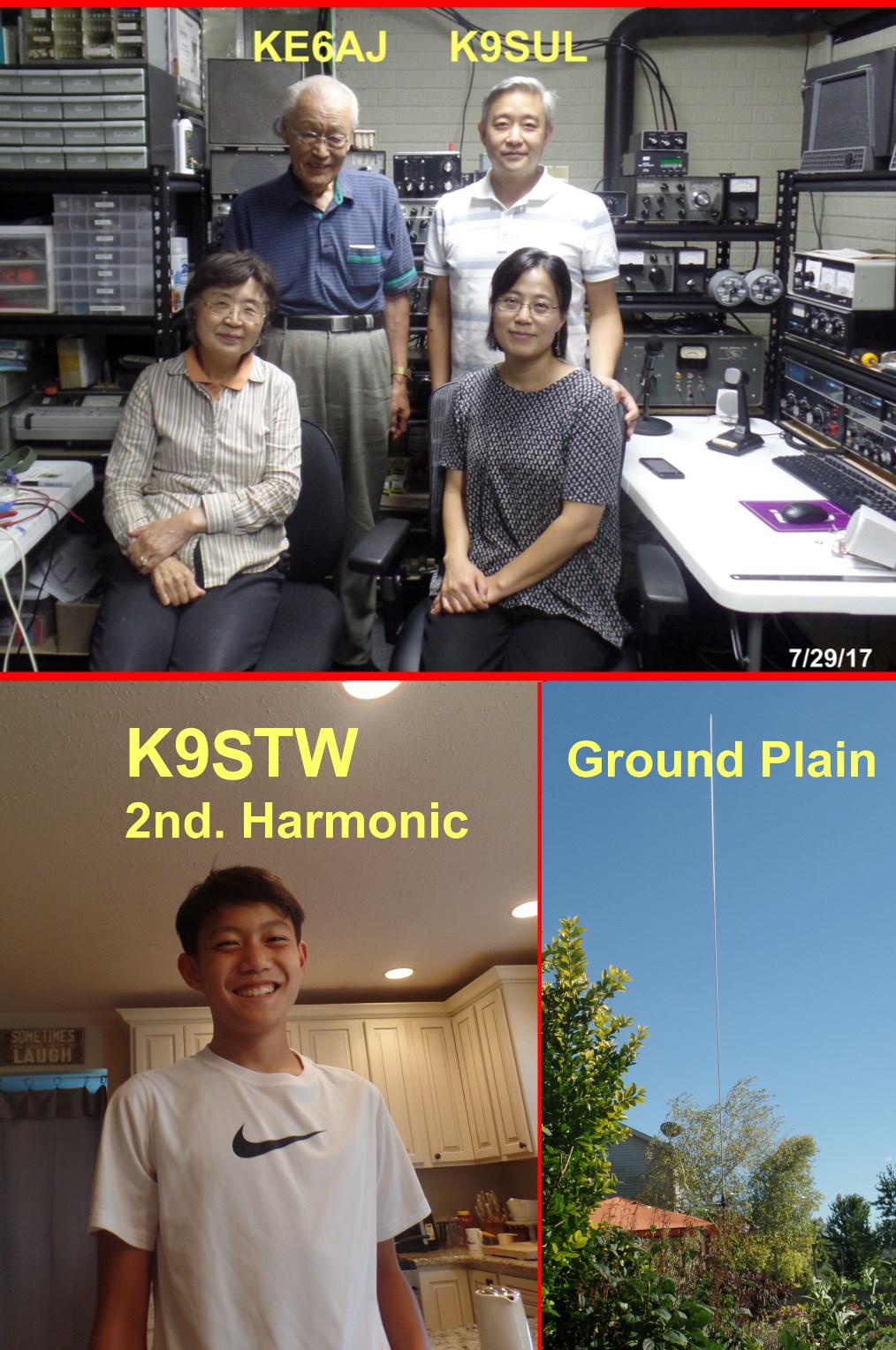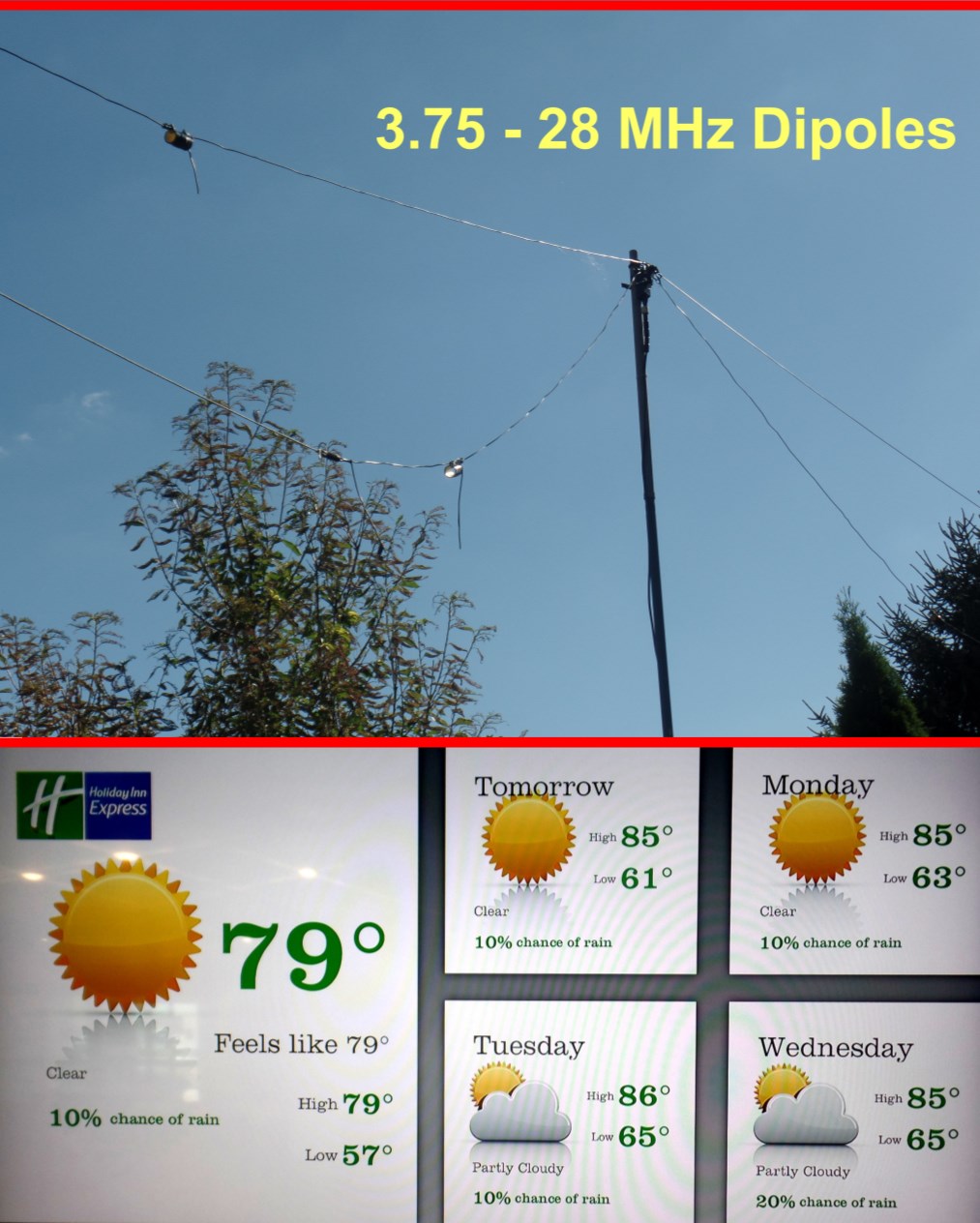 오늘 7/29일은 아침에 Columbus, Ohio를 떠나 비교적 짧은 거리인 303마일을 달려 Illinois의 Champaign (술 이름과 같으나 술이 아니고 도시이름입니다. hi)에 사시는 K9SUL 이기활 OM댁을 방문하였읍니다. 이 OM과는 QSO는 한 일이 없으나, 작년에 San Jose에 출장을 와서 만난일이 있읍니다. 이OM댁에 들어서니, 마침 한국에서 방문중인 부모님이계셔 반갑게 맞아 주셨는데, 두분 모두 연로하신데 영어를 잘하셔 놀랐읍니다. 알고보니 두분 모두 미국 유학을 하신분이랍니다.
Today on 7/29, we left Columbus, Ohio, where we stayed one night last night at my nephew Seong-Koo Cho's house, in the morning and drove relatively short 303 miles to Champaign (not the name of wine but a name of city), Illinois where K9SUL lives. We never made QSO on the air but met last year when he visited San Jose for business trip. When we arrived his QTH, his parents were there from Korea and welcomed us. We were surprised when these old parents spoke English very well but found both of them were educated in U.S.A..

이OM은 미국유학을 와서, 이곳에 있는 Illinois대학을 졸업한 후에, 이곳의 Motorola에 입사하여 사회생활을 시작하였고, 그후에 지금은 이곳의 Yahoo에 근무하고있어, 미국에 처음 온 이래 계속 이곳에 살고 있답니다. 마침 XYL은 애들과 외출중이었고, 안테나와 Shack 구경을 했는데, 이OM도 동네사람의 불평 때문에 높은 빔 안테나는 세우지 못하고, Ground Plane과 Doublet가 설치되어 있었지만, 이것으로 Condition이 좋을 때에는 유럽과도 많은 교신을 했고, 평소에도 New York과는 교신을 많이 했지만, California와와 한국과는 잘 안된다고 합니다. 이 OM은 Drake fan으로 shack에는 Drake 제품이 많았읍니다. 매년 Hamvention이 열리는 Dayton이 지척간에 있어서, 자주 가서 Drake제품을 많이 사다가, 모두 고장을 고쳐 정상동작하게 만들어서, QSO에 활용하고 있다는데, shack에는 한국산 XCVR가 한대 있어서 한국산 XCVR는 처음 보았읍니다.
HL9SUL OM came to U.S.A., graduated from Illinois College here and started social life at Motorola here. He is now working for Yahoo here and he lived in this city all the way since he came to U.S.A.. When we arrived, his XYL and children were not at home. we examined antenna and shack. He also could not raise the steel tower due to the complaint of neighbors and had to satisfy with Ground Plane and Doublet antennas. However, he could make QSOs with Europe when the condition was good. Usually, he made good QSOs with New York area but he said he could not make QSOs with California and Korea. Lee OM is a Drake (ham equipment manufacturer) fan and he had many Drake products in the shack. As Dayton where annual hamvention (convention of ham radio) is held is close enough, he visited Dayton Hamvention often, purchased many Drake products, repaired them and used for his QSOs. There was a Korea made transceiver in the shack.

이렇게 shack구경을 하고 있는 동안에 외출했든 XYL과 2nd. harmonics들이 돌아왔는데, 아들 하나 딸 하나의 아주 이상적인 가정이었읍니다. 그중 아들은 이마 K9STW라는 Call을 받아서, 자기방에는 RX가 있고, QSO는 아빠 shack에서 한답니다. 딸도 자기도 OP License를 받겠다니까, 머지 않아 온가족 hams의 ham family가 또 하나 생길것 같습니다. (XYL은 ??? hi hi)
While we were watching his shack, his XYL and children came back home. He has a son and a daughter, and the son has ham radio license with K9STW call sign. He has a receiver in his room but uses Dad's station for QSOs. The daughter also want to get a license and there will be a ham family soon. (How about XYL??? hi hi)

이런 저런 재미있는 얘기를 하다가, 저녁 때가 되어 XYL은 시부모님 저녁식사을 해드려야해서 함께 못가고, 이OM과 함께 시내에 가서 저녁을 잘 먹고, 거기서도 한동안 이야기 꽃을 피우다가 아쉬운 73를 했는데, 금년은 모두 이상기온이라, 이곳 Champaign도 덥지가 않아, 한여름인데도 아직 땀 한방울도 흘리지 않았읍니다. hi.

이제 이 여행도 일주일 남짓이 남았는데, 내일부터 3일간은 Phoenix에 도착할 때까지 ham이 없는 중부지방을 횡단하게 되겠읍니다.
After various enjoyable talking, it became dinner time. XYL could not go with us because she had to take care of her parents-in-laws and we went out with HL9SUL OM to a restaurants in downtown, continued to enjoy rag chew and had to say 73 from there. The weather was unusually cool this year, in Champaign too. There are only little more than a week left to complete this trip and there will be no ham for next 3 days until we arrive Phoenix.
제25일 Day-25 7/30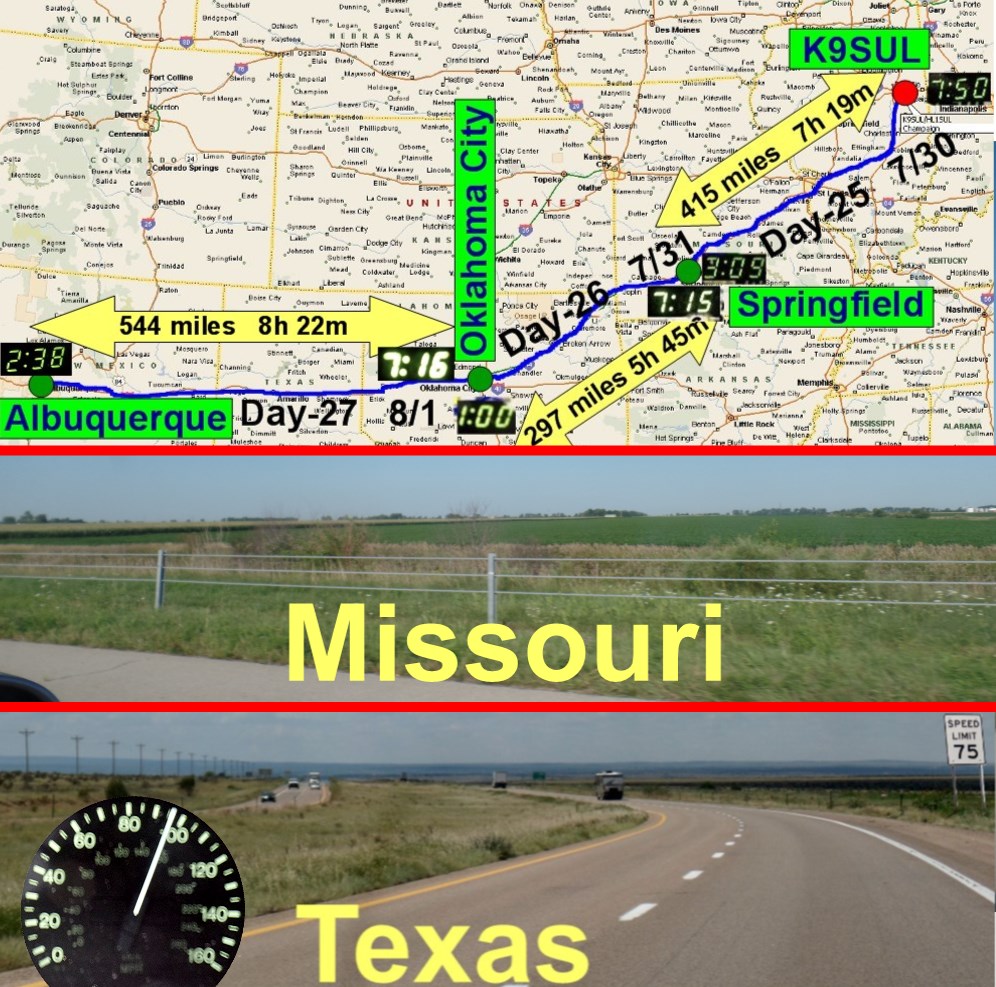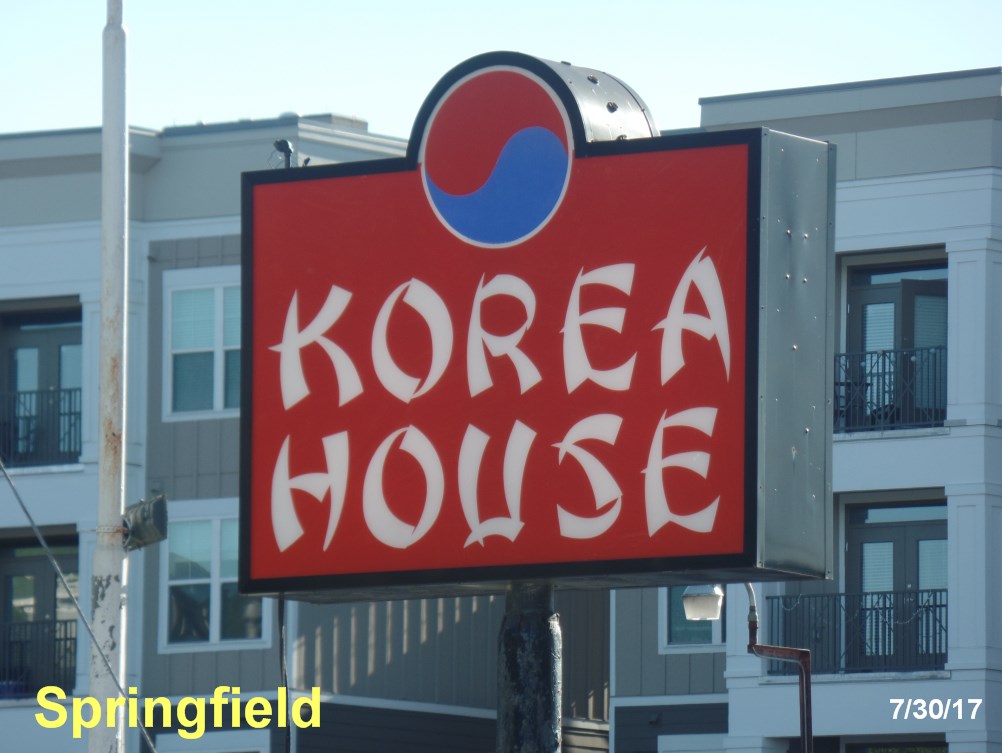 오늘은 Illinois주의 Champaign에서 Missouri주의 Springfield까지 415 마일을 7시간 20분에 주파했읍니다. 오는 도중은 가도 가도 멀리 지평선이 보이고 아주 편편하고 작은 언덕 하나도 안보입니다. 이것이 미국의 중앙 대평원입니다. Springfield의 호텔 바로 길건너 맞은편에 "Korea House"의 큰 간판이 서 있는데, 옛날의 한국음식점이 문을 닫았답니다.
Today, we drove 415 miles from Champaign, Illinois to Springfield, Missouri in 7 hous 20min.. It was a part of central plane where you can see no hill at all for whole day and that is what the Central Plane of U.S.A. is. There was a "Korea House" sign cross the street from our hotel in Springfield which was the sign of Korean restaurant out of business now.


Day-27 Day-27 8/1

어저께 Oklahoma주에 들어서면서부터 고속도로의 속도제한이 75MPH (120km/h)로 올라가, 오늘 Texas, New Mexico주들로 계속되었읍니다. 오늘은 이번 여행에서 가장 긴 거리인 544 마일을 달려야 하기 때문에, Oklahoma City호텔에서 아침 일찍이 07:16에 출발을하여, 8시간 22분이걸려 도착지인 Albuquerque시간으로 오후 02:38에 도착하였읍니다. (오늘 출발지와 도착지의 시간이 한시간 틀려져, 한시간을 벌었읍니다.) 그러나 점심을 먹고, 차에 기름을 넣고, 거피를 마시며 쉬느라고 약 한시간을 소모하여, 실제 주행시간은 7시간 20분정도였고, 이것은 평균속도가 75MPH로 달렸다는것이되고, 평균이 75MPH가 되려면 많은 시간을 90MPH (135 km/h)로 달렸고, 최고 95MPH (150 km/h) 까지 달렸읍니다. 다행이 이렇게 제한속도가 빠른 도로에는 Patrol Car가 없는것이 보통입니다. 잘은 모르겠지만, 워낙 넓은 평야에 동네가 자주 있지를 않아서, Patrol Car가 없는것 아닌지 모르겠읍니다. 이렇게 강행군을 했드니, 무척 피곤하네요. 작년에는 이정도는 예사였는데, 아무래도 나이가 말을 하기 시작하는듯, 내년의 제10차는 무리일것 같은 감이 점점 강하게 느껴집니다.
When we got into Oklahoma state yesterday, the speed limit was increased to 75MPH (120km/h) and continued today in Texas and New Mexico. Today, we had to drive longest distance in a day of 544 miles. We left Oklahoma City early at 07:16 AM, drove 8 hours and 22 min. and arrived Albuquerque in New Mexico at 14:38 PM. (The time zone has changed again today and we gained one hour.) However, considering about an hour we spent for lunch, filling gas to the car and few coffee breaks, actual driving hour was about 7 hours and 20 min. which means we drove at 75 MPH in average. To drive 75MPH in average, we had to drive 90MPH (135km/h) for quite a period and max. 95MPH (150km/h). Fortunately, there is no patrol car in the road with this high speed limit, perhaps, because there is no town around. Because we drove so fast whole day, we felt tired when we arrived Albuquerque which we didn't have until last year. I think I am getting older and I feel more and more another driving next year might be impossible.
오늘 아침에는 비가와서, 처음 두시간 정도는 운전에 고생했으나, 약 두시간 후 부터는 서서히 개여서, 오후에는 파란 하늘로 바뀌었읍니다. 이제 햄이 없는 중부평원의 운전은 끝났고, 내일은 Arizona주의 Phoenix에 가서, Arizona Cowboy (HM1AC)를 만날 예정입니다.
There was a rain in the early morning making the driving hard but slowly cleared later showing blue sky in the afternoon. Now, the driving without ham is over and we will meet Arizona Cowboy (HM1AC) in Phoenix, Arizona tomorrow.
 
제28일 Day-28 8/2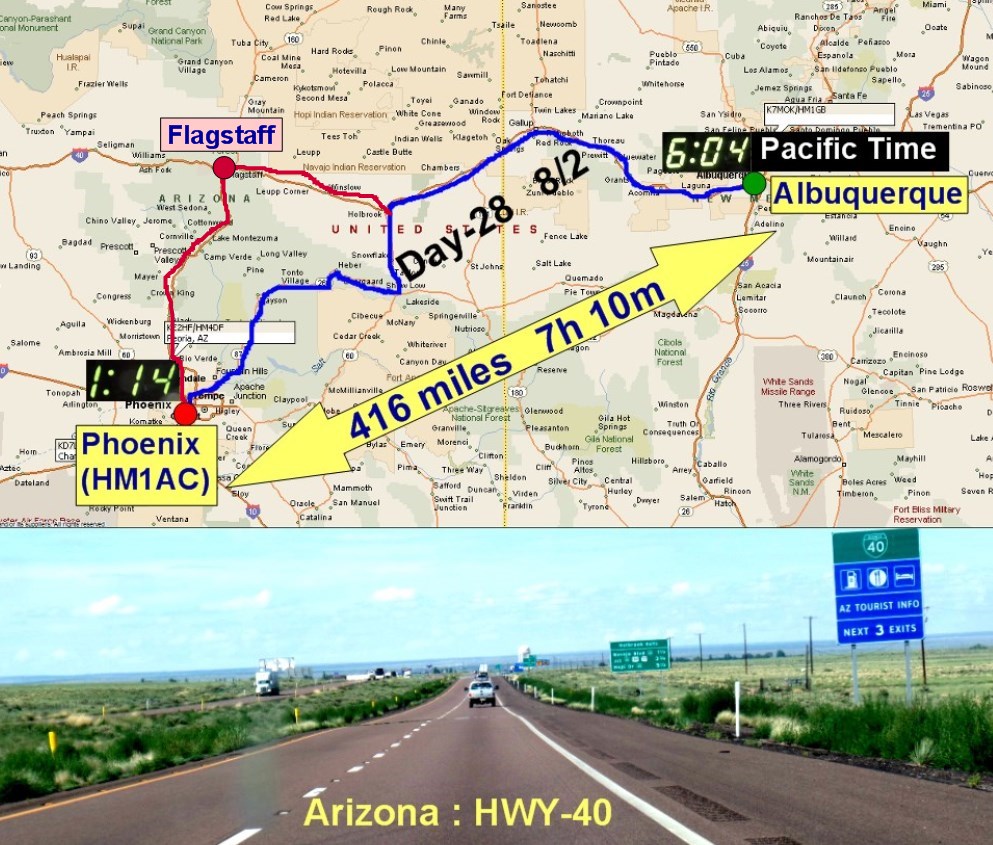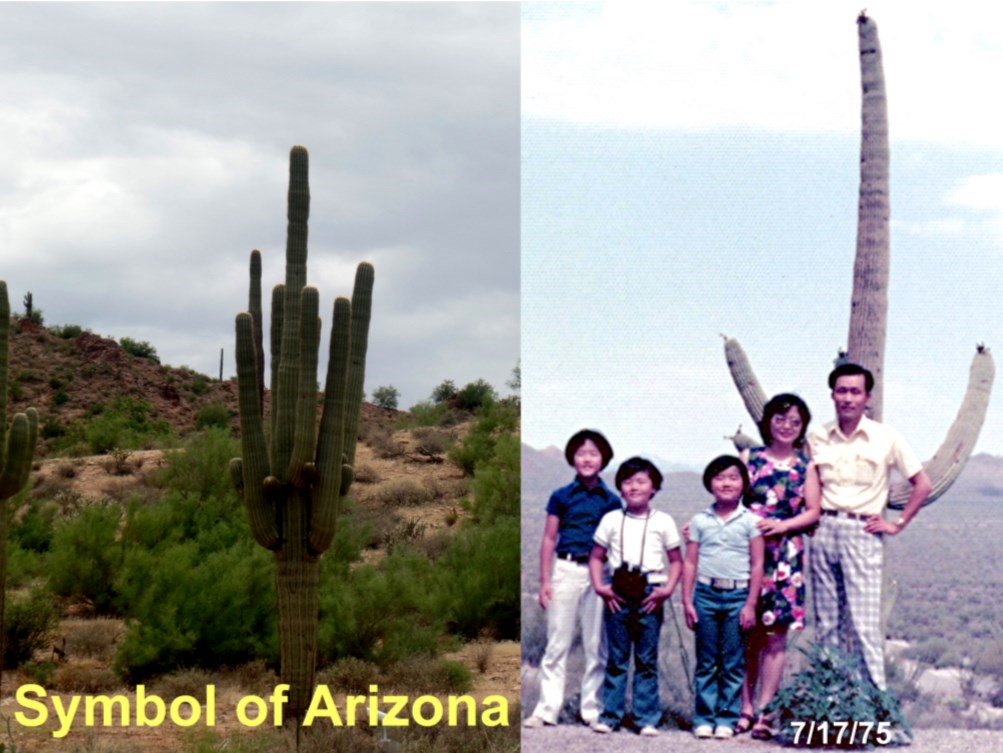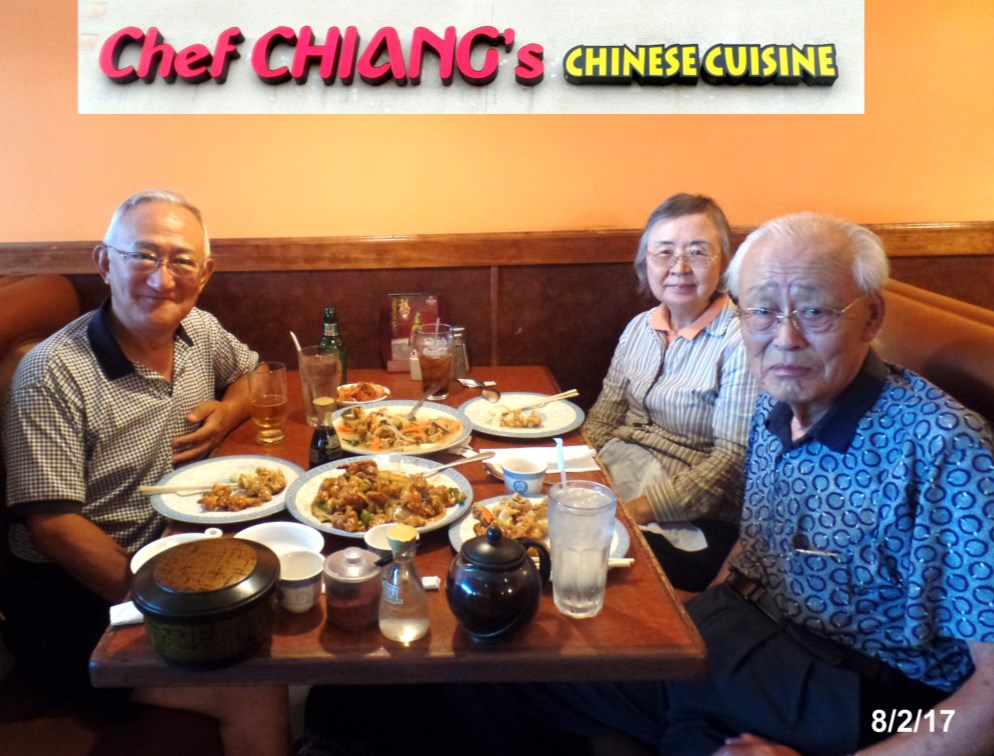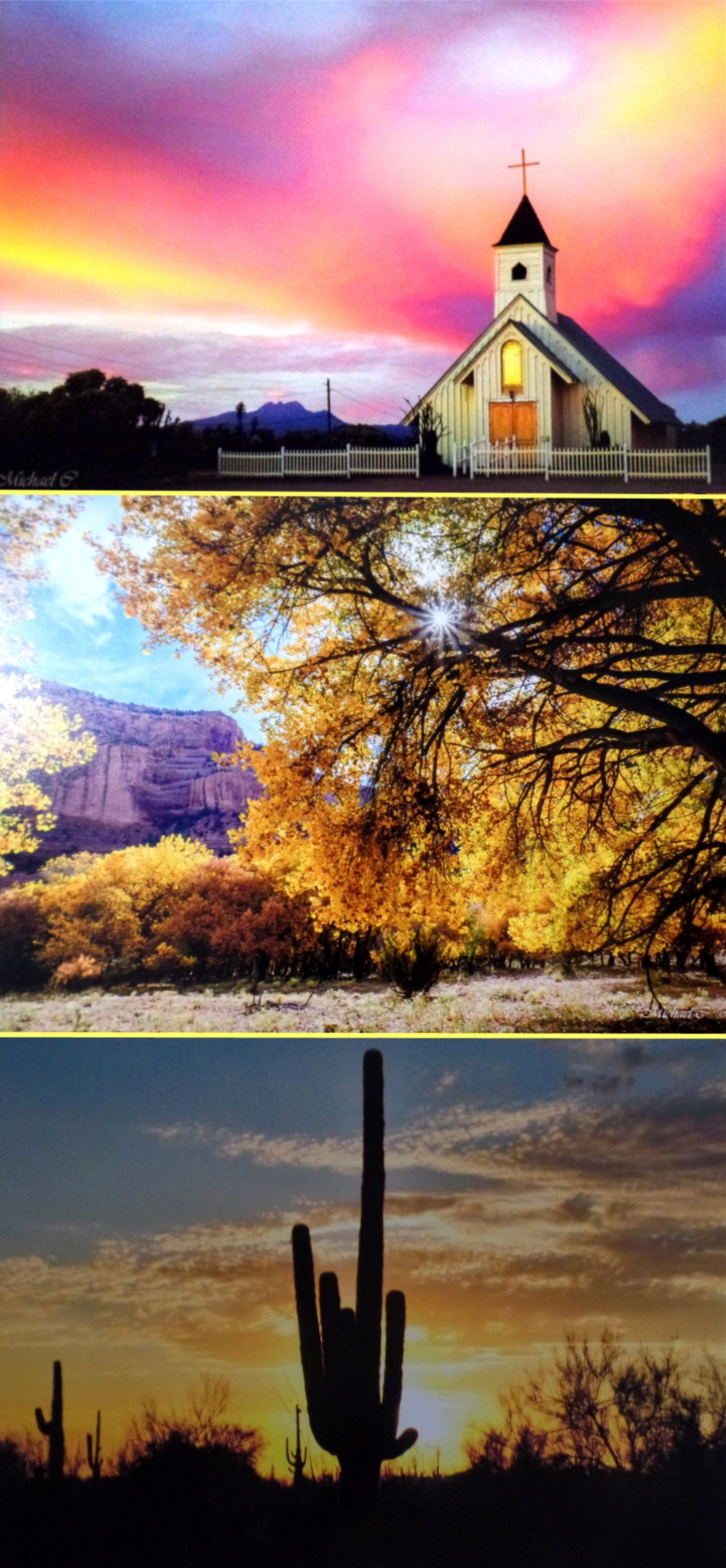 오늘은 Phoenix의 ex-HM1Arizona Cowboy를 만나러 가는 날로, 원래의 계획에는 487 마일을 예정하고 있었읍니다. 그래서 Albuquerque의 호텔에서 일찍암치 7시4분 (Mountain Daylight Saving Time = 06:04 Pacific DST)에 떠나서, 제한속도 75MPH + 5MPH = 80 MPH의 속도로 Cruise Control을 setting하고 달리기 시작하였읍니다.
Today is the day to meet ex-HM1Arizona Cowboy in Phoenix and we had to drive 487 miles to get there. Therefore, we left early at Albuquerque hotel at 07:04 AM (MDST = 06:04 PDST) and set the cruise control at 75MPH + 5 MPH = 80 MPH.

원래의 계획에는 아침 8시에 출발하여, 그렇게 달리면 오후 4시경에 도착할것으로 계산 되어 Arizona Cowboy 최윤근 OM에게는 그렇게 통보해 놨었는데, 출발 자체가 약 한시간 빨라졌고, 원래는 HWY-40의 고속도로로 Flagstaff까지 가서, HWY-17의 고속도로로 Phoenix까지 남하할 예정이었는데, Navigator가 Flagstaff에 훨신 못미친 Holbrook에서 남쪽으로 꺾어 HWY-377로 유도하는 바람에 short cut이기는 하지만 약 두시간 이상을 HWY-377, HWY-260, HWY-87의 산길을 달리는 수난을 겪었읍니다. 덕분에 거리도 416 마일로 줄고, 다시 2시간이 절약되어, 예정보다 3시간이나 일찍이 오후 1시경에 도착하였지만, 오르막 내리막 꼬불탕 꼬불탕한 길을 두시간이상 달리면서, 도로에 차도 없어 제한속도 55-65MPH도로를 80-85MPH의 고속주행을 하면서 고생 꽤나 했읍니다. hi hi (No Patrol Car!!) 위의 사진의 대형 선인장은 Arizona주에만 살고있어, Arizona주의 대표적인 상징이기도하고, 그 크기를 제대로 보여드리기 위하여 1975년에 첫 미대륙횡단 여행 때의 사진을 첨부하였읍니다.
Original plan was if we leave hotel at 08:00 AM and drive at 80 MPH, we will arrive Phoenix at 16:00 PM and we informed to HM1AC that plan. However, our departure itself was one hour earlier, and we were supposed to drive HWY-40 to Flagstaff and turn south to HWY-17 to Phoenix, but navigator directed us at Holbrook, much earlier than Flagstaff, to turn south to mountain roads HWy-377, HWy-260 and HWY-87 which were short cut to save about 70 miles. As there was almost no car on the roads, we drove 80-85 MPH mostly while speed limit were around 55-65 MPH. It was a hard winding mountain road driving but we could same about 2 hours than original plan and arrived Phoenix at HM1AC QTH at around 13:00 PM local time, though it was really a hard driving. (There was no highway patrol car hi) The large cactus is the symbol of Arizona and lives in Arizona only. I showed a picture of 1975 to show the size of cactus in Arizona.

최윤근 OM은 몇년 후배이기는 하나 서울공대를 함께 다니면서 LCR Club member로 연맹일 하면서 많은 도움을 받았었고, 미국에 와서도 대륙힝단 여행을 할때마다 OM의 QTH가 집에 돌아오는 길목이기도 해서 매번 하루 이틀 자면서 만났었읍니다. 최OM은 원래 Motorola가 한국에 공장을 세우자 Early Employee로 입사하여 여러해 동안 Motorola Korea에서 일을했고, 그후에 Motorola Malaysia에 여러해 근무한 후에 Phoenix의 Motorola 본사로 전근 되면서 Motorola 본사에서 한동안 근무하다가 사직하고 자기회사를 차려 오래동안 Phoenix에서 자영산업을 해왔었읍니다. 그후 약 5년전에 XYL이 SK하여, 그후에는 Phoenix 남쪽에서 혼자 살며, ham radio는 안하고, 요새는 사진에 열중하여, 사진을 찍으려 유럽을 포함하여 온세상을 모두 헤메고 다니고 있읍니다. hi hi. 여기 최OM의 작품 석장을 소개합니다.
HM1AC OM is a junior at Engineering College of Seoul National University and was a member of LCR Club which helped me a lot to do KARL works. We always stayed in his house on the way home whenever we drove crossing the continents. He joined Motorola very early when Motorola started the operation in Korea, was transferred and worked in Motorola Malaysia for a while and was transferred and worked in Motorola HQ in Phoenix before he quit Motorola and have had his own business. He lost his XYL who passed away about 5 years ago, became a photographer and have been traveling all over the world to take pictures including Europe. Here are 3 photographs he took.

워낙 대학 때부터 친하게 지나왔기 때문에 만나면 반갑고, 이야기가 옛날로부터 지금까지 끊임이 없어, 언제나 시간 가는줄도 모르게 계속됩니다. 오늘도 오후 1시경부터 시작된 얘기가 근처의 중국음식점에서 저녁을 먹고 돌아와서 잠자리에 들 때까지 계속되었읍니다. MNI THX Arizona Cowboy !! (Arizona Cowboy는 한국에 있을때 부터 써온 이름인데, 그때는 진짜로 Arizona Cowboy가 될 줄은 몰랐겠지요. hi hi)

이제 내일이면 California로 돌아갑니다. 무척 긴 여행 같은데 어느사이에 끝나갑니다. !!
Because we have been a good friends since we were students of college, we are always glad to meet and talk about all kinds of old stories. Today too, the rag chew started at 13:00 PM had continued at Chinese restaurant for dinner and until we go to bed in the night. MNI THX Arizona Cowboy !! (He used this HM1Arizona Cowboy call sign from Korea when he didn't know he will be in Arizona in the future. hi hi)
We will go to California tomorrow. One month long trip is close to end in a few days now.