¡¡
Returned from Taiwan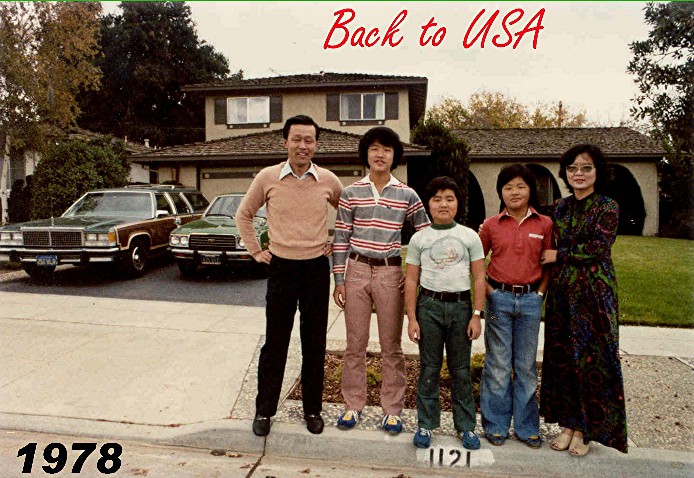 Since we came back from Taiwan in 1978 until I returned to Korea joining Samsung in 1986, there was nothing exciting or nothing specially achieved, for 8 years.
As we decided to live in United States permanently, AMI did not provide either house or car any more and I had to buy house and car by myself and to pay mortgage, car payments, gas and insurance out of my pocket making our financial situation very tight, just as any American salaried people.
My job was again back to KMI Support Manager as before, communicating with KMI daily, not too busy as before and traveling around whenever there were KMI visitors at AMI expenses. I joined Palo Alto Hills Country Club nearby (a private golf club of about 15 min. drive from home), practiced golf swing on the way back to home from office on every Tuesday and Thursday afternoon, played golf on Saturday and Sunday almost every week with Korean friends who were also members of the same club, and played poker game quite frequently.
About a year after we returned from Taiwan, AMI asked me to go to KMI and assist them for a few months as there were many internal problems (mostly management problems rather than operation problems). Since the summer vacation was just started, I convinced company and all family went to Korea, stayed in Hyatt Hotel for almost 3 months and did best to fix KMI problems in Korea. However, because my way had been always to fix any problem fundamentally rather than short term fire fighting, it usually required quite a long time to fix any problem and couldn't do too much in just a few months. This time, since I didn't have enough time to fix the problems fundamentally, I just had no choise but to do my best for short term solutions and give some advice to KMI managers to follow through.
While we were in Korea, I took family to drive around Korea to Sulak mountain and Kyungju, old capital of Shilla dynasty more than a thousand years ago, for children to learn about Korea better. Also, At the end of the trip, I invited my eldest sister to U. S., came back home together stopping and spending few days in Hawaii on the way, showed around western part of U. S. and sent to Seong-Koo in Columbus, Ohio, to show her around eastern part of U. S. A..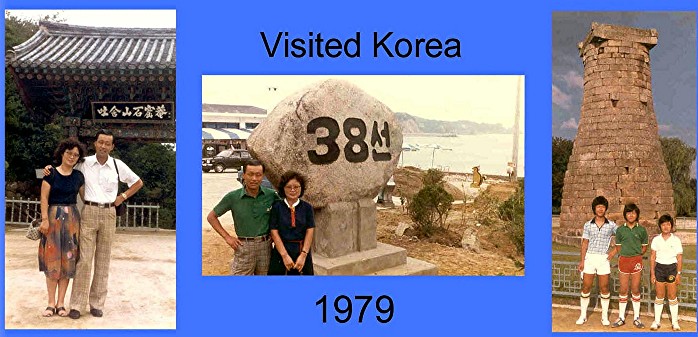 In the next year, my uncle and aunt in New Jersy visited us and we showed them Yosemite National Park. However, in about a month after their visit to us, the aunt was killed by a traffic accident near the home and surprised us very much.
Another tragedy was Mr. Seung-Chan Park, the President of Gold Star Co. and the youngest brother of my 2nd. brother-in-law who helped me to join Gold Star, visited AMI to discuss a joint semiconductor business between Gold Star and AMI, played go-stop game at our home one evening, but was killed also by a car accident only less than a week after he returned to Korea, which was not only a great tragedy for family members but also for the country of Korea.
During this 8 years, however, the greatest event was the new house construction at a hill top of Cupertino, where we lived. I had always loved to have a house with nice view and my real estate agent showed me one day a great home site on sale at a hill top not far from our house with wonderful view overlooking whole Silicon Valley. I rally loved the site and decided to buy it and build a new dream house there at the spot, though it might be little too tight for my financial capability at the time.
It took a few months to design and about a year to complete. There were a large living room with high ceiling, family room and kitchen all at the down stair and all bed rooms at upstair. An open den at upstair overlooking living room was designed and all glass windows and glass doors to the valley side were large enough to have great views. It was really a dream house for me.
However, this lucky guy had to have at least one misfortune in his life perhaps. The home loan mortgage interest rate was generally 7-8% when we started the project but shot up to 18% due to the unexpected oil shock when we completed the house, forcing me to pay more than two times of monthly mortgage payment every month than originally planned, which was really far beyond my ability to pay with my salary at the time.
I spent all my cash available to build this house but what could I do? I had no choice but to give up this dream house and to sell it making quite a loss. It was a quite a loss and lost all my cash on hand at the time, which might be equivalent to one or two million dollars loss of today for me probably. This was my greatest failure in my whole life. However, it was a greater regret to me that we could never live in this house, than I lost such a large amount of money.
I usually never repent anything. Since human has no ability to foresee even a minute later, I might do the same thing again if I face same decision under same circumstances. What would it do better for me, even I repent thinking about it over and over without even sleep in the night? It is all over and there is nothing I can do any more. I am a firm believer that the past has no more value than to review, to learn for the future and to forget as soon as possible, especially when it was a unpleasant failure. I made a great mistake due to unpredictable future mortgage rate this time loosing a large amount of money. So what? Well, I am still young and would have enough chances to make money again and to build better home again. (That house is currently valued much more than 2 million dollars now.)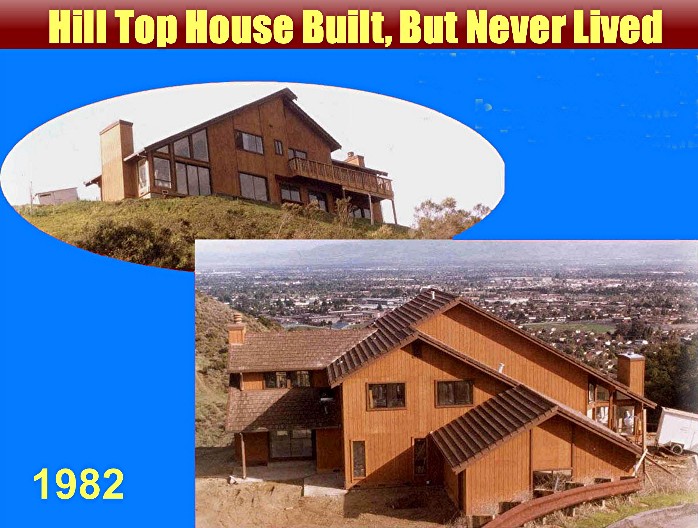 Other than this big event of dream house construction, there was nothing much happened during these 8 years. Just to be prepared of children to get jobs easier after the college graduation, we applied citizenship and became American citizens.
Mean time, AMI business had been slowly deteriorated and decided to close down all Santa Clara facilities to move to Pocatello, Idaho, where they had wafer fab facility. Since Idaho state is very quiet farminig town at far northern part of United States with very cold winter producing a lot of potatos (They call themselves Potato State), I didn't like to live this kind of place, quit the AMI where I had worked for more than 16 years at KMI, TMI and AMI since 1970 and became an unemployed. (This was just another case of my optimistic "ENJOY TODAY" philosophy that I wouldn't do anything I don't like to do today without much consideration of what to do then in future.)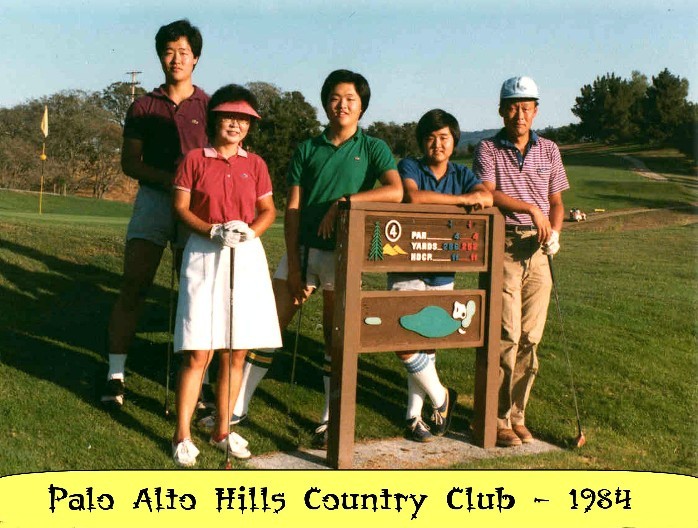 I spent a few months without job playing a lot of golf almost every day (alone many days). One day, Dr. Ilbok Lee, who was a Director of SSI (Samsung Semiconductors Inc., a subsidiary of Samsung in Silicon Valley.) and a good poker and golf friend of mine, asked me whether I would work for Samsung Semiconductors in Korea . It was the time Samsung Semiconductors had started DRAM business only 2-3 years ago.
Samsung's customers were all large computer makers such as IBM, HP, DEC, Unisys, NCR etc. in United States mostly. Since it was very early stage of Samsung Semiconductors, Samsung had a lot of quality problems with these major customers in U. S. and wanted me to work as a Quality Director to support these customers technically. They needed some one technically strong about semiconductors, speak English and understand Ameican companies well.
Because of bad memory in Gold Star, I didn't like to work for any Korean company at first. However, I was jobless for a few months already, tired playing golf too much almost every day, didn't have enough money to send children to colleges in the near future and heard Samsung was the best managed company in Korea at least. Also, I liked Samsung's management principle that it was not a family company without family member of founder Mr. Lee in the management, while Gold Star was managed by all Koo family members at the top management by contraries. Therefore, I accepted the proposal, joined Samsung Semiconductors by the arrangement of Dr. Ilbok Lee, went to Seoul alone first and started to work for Samsung Semiconductors in early Dec. of 1986.
¡¡