This trip had 3 phases.
1st Phase : Driving from Sunnyvale home to Fort Lee, New Jersey. 8/3 - 8/9, 7 days.
2nd Phase : Viking Grand European River Cruise. 8/10 - 8/26, 17 days.
3rd Phase : Driving from New Jersy to home. 8/29 - 9/5, 8 days.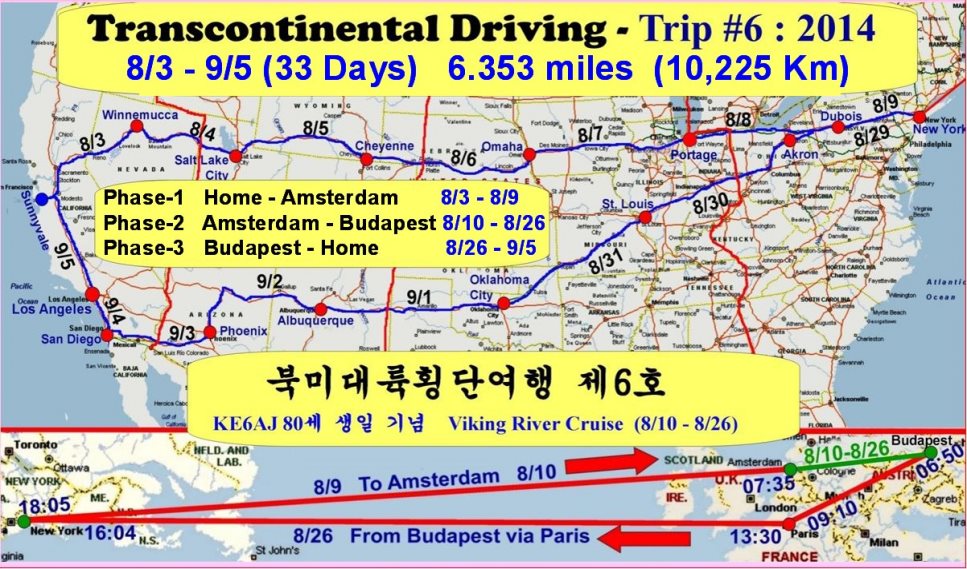 Before we start the cruise on 8/12, we stayed additional 2 days in Amsterdam, Netherland. Originally, Rhine, Main and Danube rivers were all seperated and could not be sailed each other. However, there is a canal connecting these 3 rivers now and you can sail from Amsterdam to Budapest with 68 Locks bringing the ship up and down.
Afer the cruise, I have somewhat disappointed finding the river cruise is limited to visit cities along the river only which can not be all wonderful cities to visit. In this cruise, other cities than Amsterdam, Vienna and Budapest were all look alike and did not interest me as they are just old cities without any special place to interest me.
Suggestion : Please do not bring Traveller's Check. It is not popular in Europe and you can exchange only in the bank. The best place to get Euro is the Cash Machines (ATM) in the bank which is always open even when bank is closed and has the best exchange ratio (1 Euro was about $135 at ATM while I paid $150 at Mony Exchange.)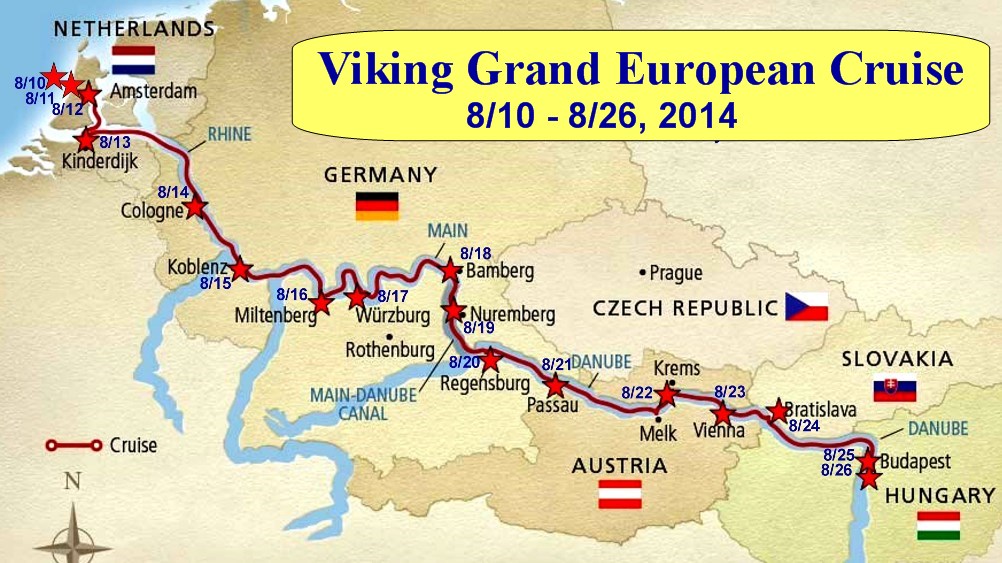 Our detailed plan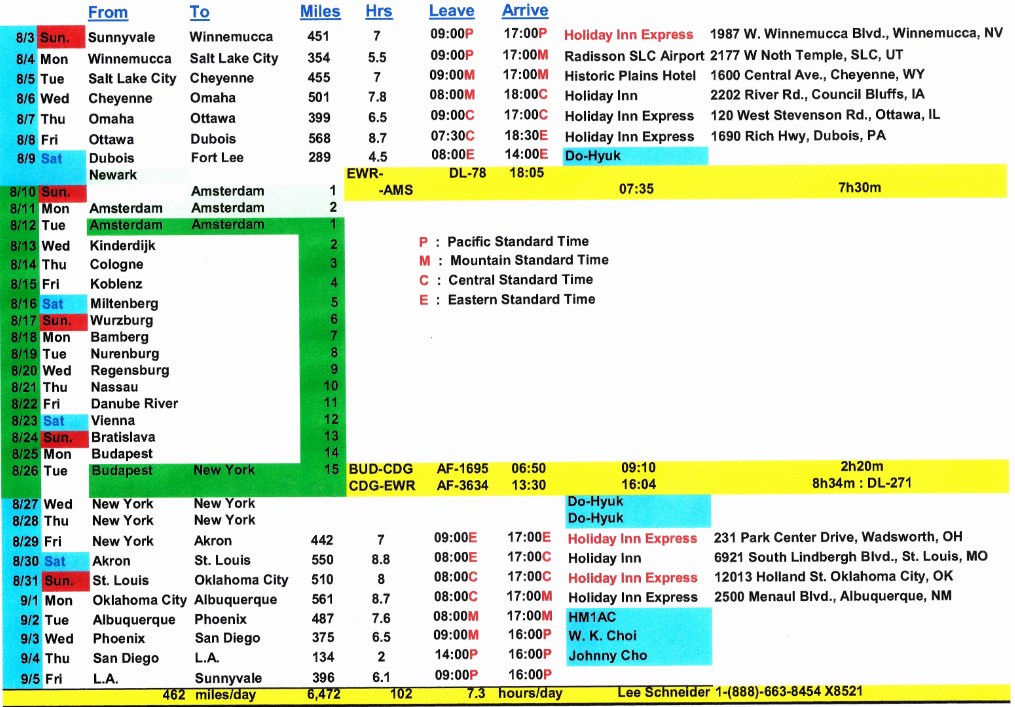 Ready to roll at 9:24 AM on 8/3 with Lexus LS-400 odometer showing 135,590 miles.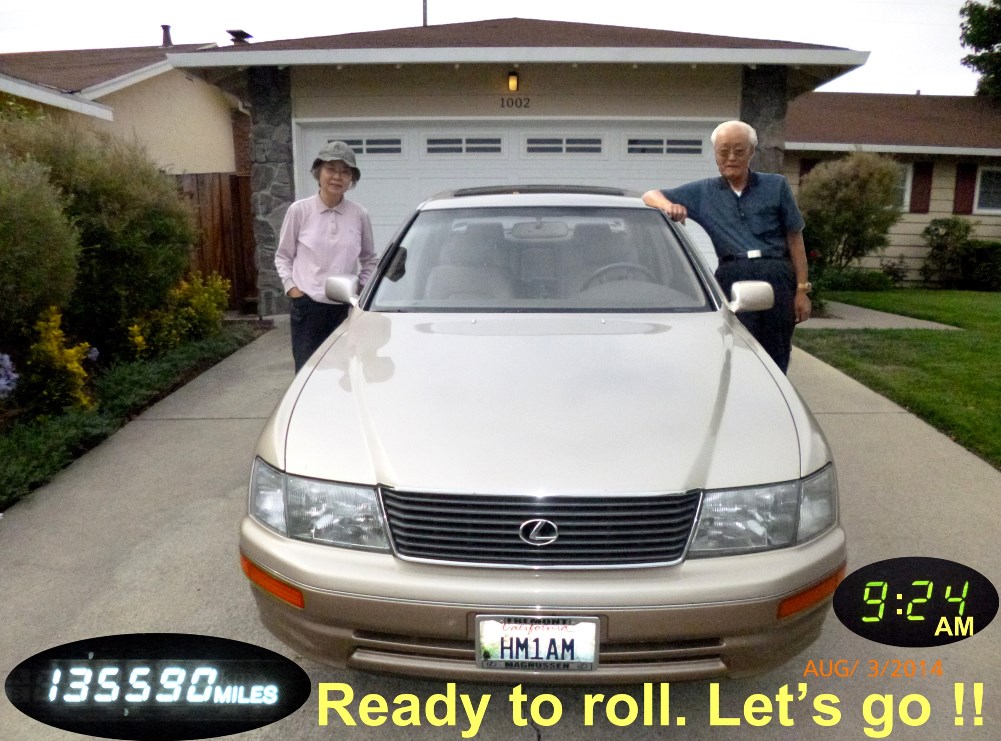 On the 1st. day to Winnemucca, Nevada. 407.6 miles 7 hours 21 minutes of driving including lunch and break times arriving at 4:45 PM, 15 min. earlier than the plan.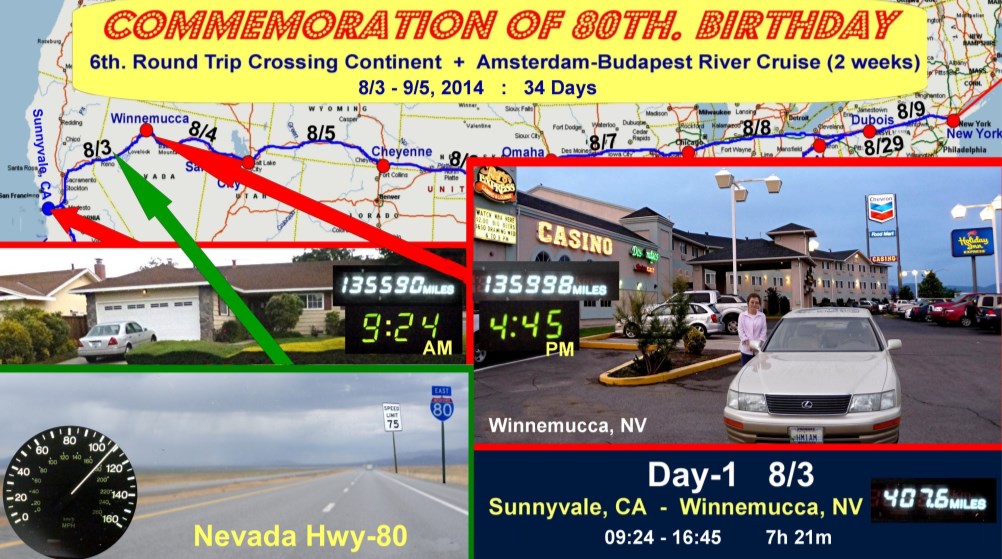 On the 2nd. day, from Winnemucca to Salt Lake City, UT, we left Winnemucca at 8:00 AM and drove 349 miles in 6 hours 16 min. arriving at 3:16 PM. I have intentionally prepared conservative plan because of my age.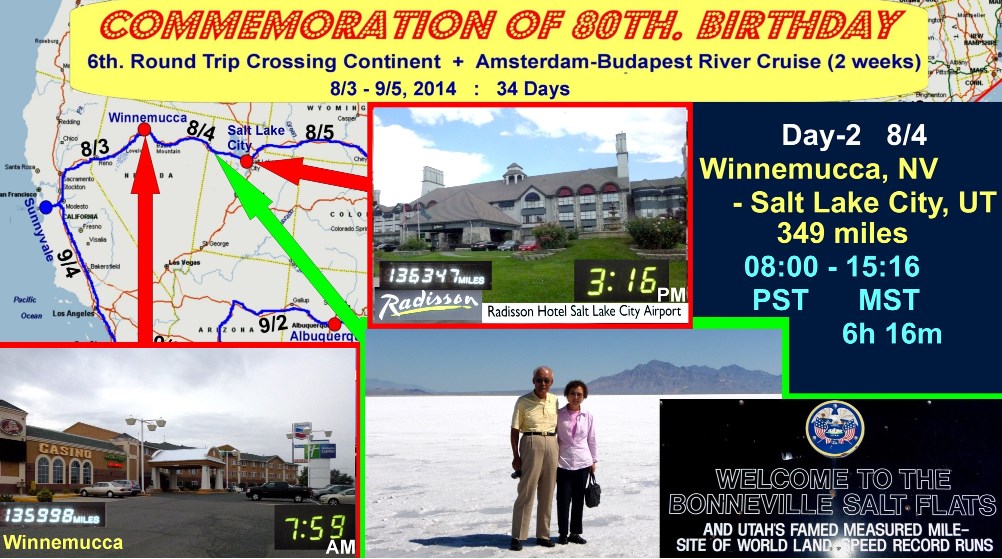 On the 3rd day, left Salt Lake City one hour earlier than the plan and arrived Cheyenne one hour earlier at 4 PM.
We have crossed Rocky Mountains and the top of the Rocky Mountains were more like a flat plain rather than mountains without any high mountains.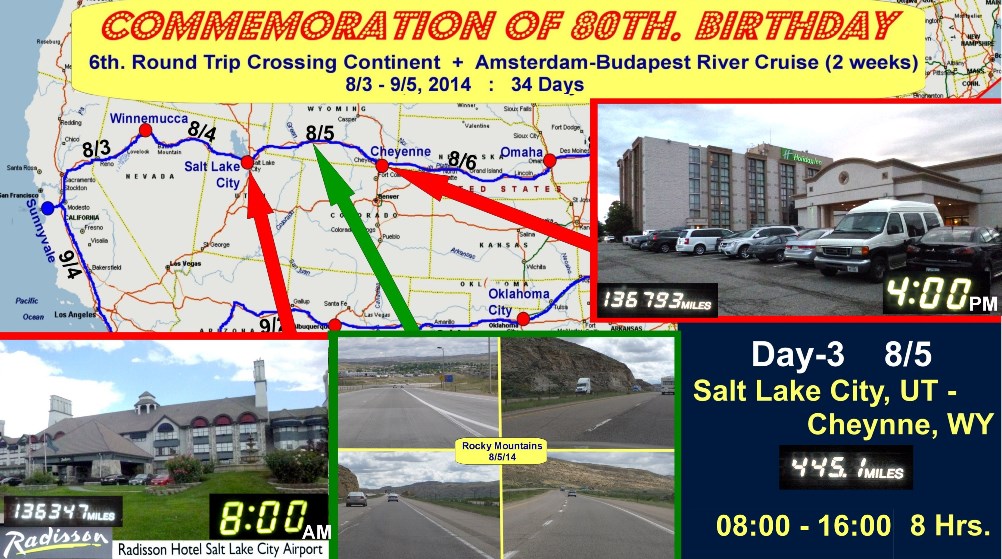 From 4th. day, we drove central plains without any hill nor mountain. Just flat plains.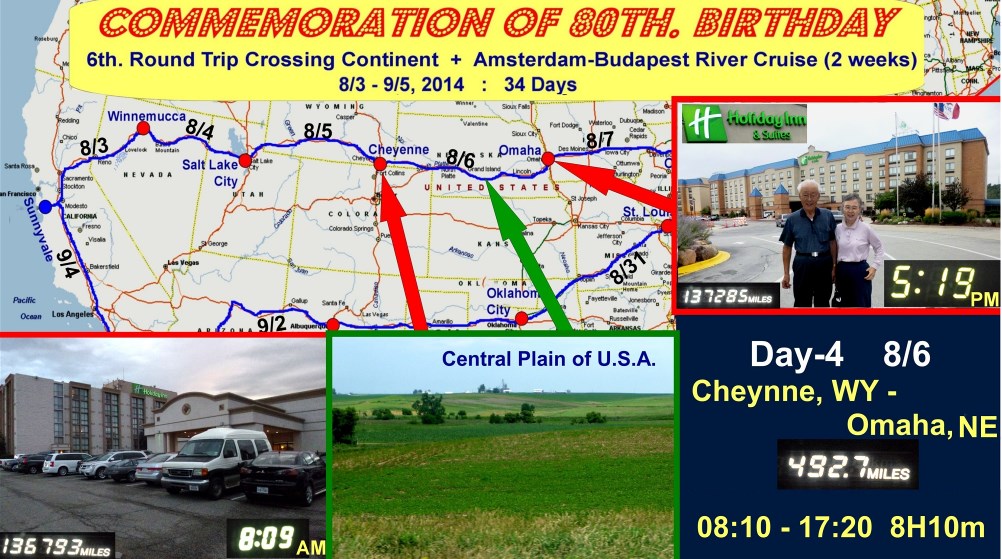 Still Flat Plain whole day. Left Omaha, NE at 7:55 and arrived Portage, IN at 5:00 PM. Right on time as planned.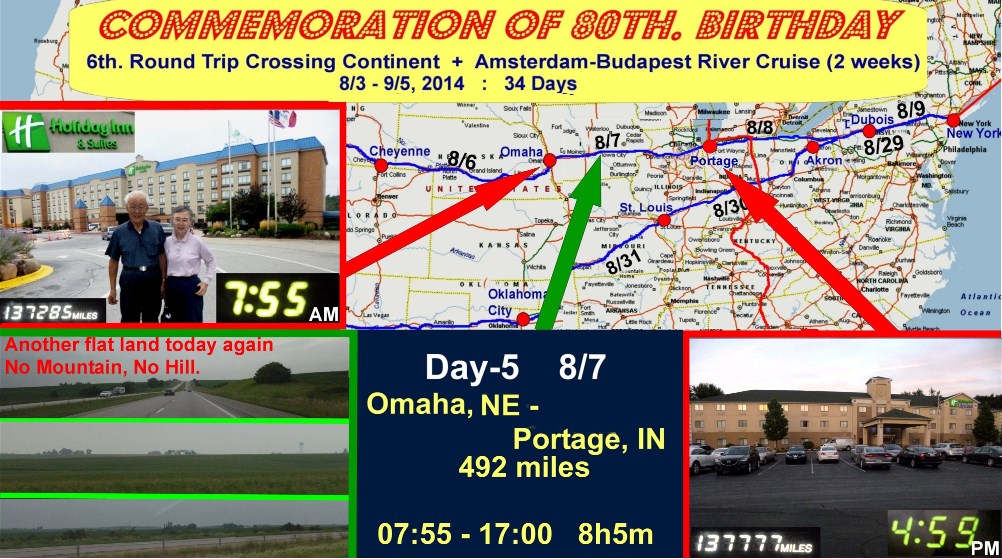 Day-6. Service Plaza in Ohio was impressive and very convenient as you don't need to exit freeway for lunch and break. Drove 463 miles in 8 hours 50min., little long to make tomorrow's drive short.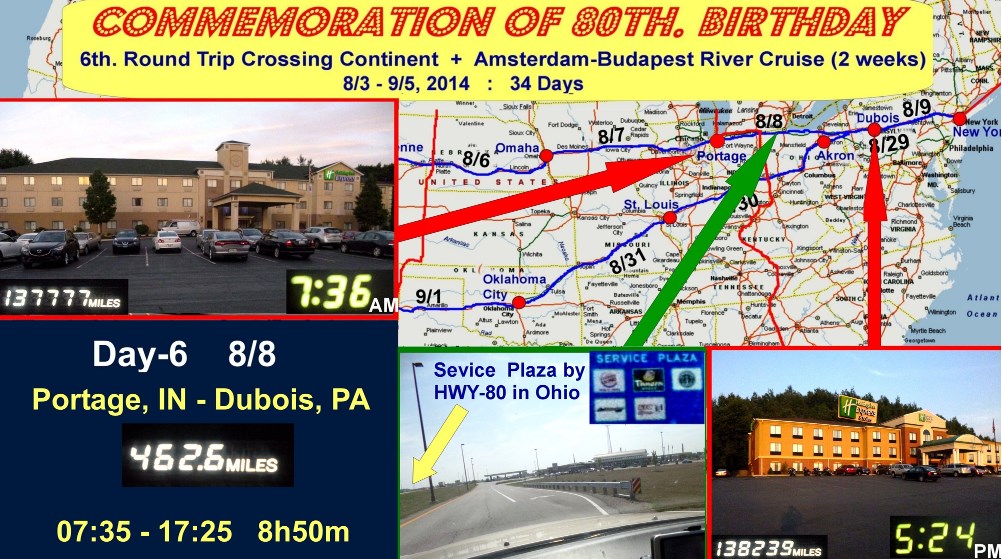 Day-7, the last day to cross continent 11th. time. Because we have to catch 8:05 PM plane for Amsterdam, we arrived Do-Hyuk Yim's (Jane's cousin) house early at 1:08 PM. We took some rest there, took Delta flight at Newark airport and departed at 6:26 PM for Amsterdam, Netherland.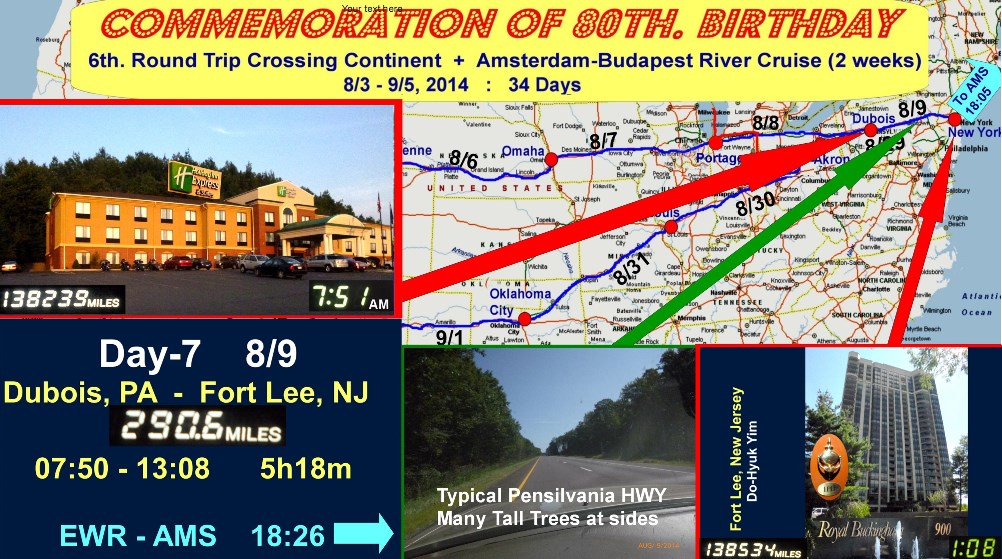 More pictures and video can be viewed clicking the following map. (11 min.)
Because they are relatively high definition (1280x720),
download might take time if your internet speed is not fast enough. Please be patient !!