¡¡
My Middle School Days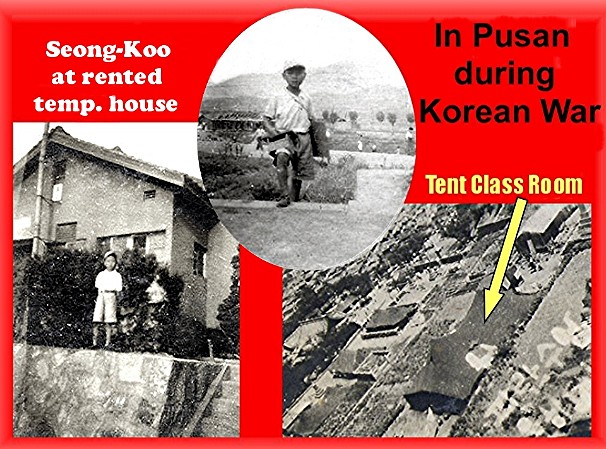 In 1947, I finished Chungsan Elementary School and applied to Kyungkee Middle School in Seoul but failed. I as a country boy didn¡¯t know which middle schools are in Seoul and I guess it was the idea of my father or one of my elder brothers to apply to Kyungkee which was known as the best but toughest to get in. As a second chance, my only choice was to apply to the middle school attached to Seoul Normal School where I was admitted. My family moved from Chungsan to Sungbookdong near to Samsun Bridge. We bought a house facing Seong-Koo¡¯s maternal grandfather¡¯s house. It was probably recommended by him to my father to buy a house there.
Until we moved to Seoul, my sister Dong-Sun stayed with my uncle (my father¡¯s younger brother) to attend a high school, while my sister Dong-Hyun attended a middle school in Chungjoo at my sister Dong-Soon¡¯s house. When we all rejoined at Seoul , my elder brother Dong-Han returned to Bosung College, my sister Dong-Hyun was transferred to Dongduck Girl's High School in Seoul. Seong-Koo¡¯s mother taught at the Namsan Elementary School and Seong-Koo attended an elementary school close to our home. My father opened a Chinese medicine clinic at home. It was not necessary then to acquire a license to open a Chinese medicine clinic. I guess all he did to open the business was to read several Chinese medical books such as famous Dongui-Bogam.
The Seoul Normal School was located in Chungpadong, just south of Seoul Railroad Station. To attend the school in Chungpadong from Sungbookdong, I had to take a street car to Jongro 4th Street, switch to another street car to Noryangjin via Seoul Railroad Station and get off at Namyoungdong, just next of Seoul Station. From there I had to walk up a very steep hill. It was the time of the U.S. Military Government after the liberation from the Japanese occupation only 2 years ago, the population of Seoul was less than 1 million perhaps and the transportation system was terrible. The street cars were the only means of public transportation but there were only 14 cars in operation in whole city of Seoul. Other than that, there were one-horse-carriages, which could carry few more than ten people, operating at a few major streets only. However, the fare was too expensive for middle school boys like me.
Thus, by one way or another, I mostly took a long walk to school. I remember it took me one-and-a-half to two hours to walk. Because no schoolboy could afford to have a watch back then, I just walked to school without knowing what time it was. The best way to bear the long walk, I figured was to find a fast walking adult and chase him, just like it is fastest way to drive in freeway today, chasing a fast driving car with enough distance, so you won¡¯t get speeding ticket but drive fast.
It was not a problem to walk long every day in spring or autumn with good weather but the bitter cold in winter or the sizzling heat of summer gave me a very hard time. It was so cold that the Han River froze into thick ice at that time, so that even a truck could drive over the ice. However, I don¡¯t think I was neither too late nor absent for school for most of the days. The stiff hilly street at Chungpadong during winter was so slippery, especially with rain in the night, that I slipped down often back to the bottom as I barely made it to the top. Sometimes, this happened three four times on a really bad day. I am still proud that I have somehow managed to attend the school without absences or tardiness too much for school under this kind of really hard situation.
Due to the lack of public transportation services, many students tried hitchhiking on trucks at that time, especially in the morning on the way to school. Even if we didn¡¯t know where it was going, as long as it was heading in the same direction, we just jumped into the truck running. We threw our school bag into the car first and crawled in after it while the truck was still moving. When the truck changed its direction, we had to jump off the truck, which was more dangerous than crawling in. This is illegal today but most students did it back then and no police existed at that time to stop this dangerous maneuvering. I think it was possible because trucks used to be much slower then. One rainy day, at the Hyehwadong rotary about a mile away from home, I slipped off the truck and messed up my uniform because the street was so wet after the rain in the night. I had to come back home and could not go to school on the day. Fortunately, I did not get injured seriously. This was how we commuted at that time.
When I was a 7th grader, I commuted to the school in Chungpadong for the first one year. At the end of the school year, Seoul Normal School moved to Wangshipree and my family moved to a bigger house in Donamadong. When we lived in a house at Sungbookdong for about a year, there were only three bedrooms. Our new house had 6 bedrooms, so we could enjoy more space. When we moved to Donamdong, my father quit the Chinese medicine clinic and did not work any more. I believe we have lived selling his land in Chungsan. The new house in Donamdong was in an alley close to the last stop of the street car and our next door neighbor was Dr. Byung-Ok Cho who was the chief of the National Police for the newly founded Republic of Korean government. We had a small shop in the house where we could sell all kinds of goods, such as 7-11 in U. S. A. today, and it was my job to take care of the store after the school.
I became an 8th grader. However, after we moved to Donamdong, I got sick and dropped out of school for a year. Maybe, I pretended to be ill so that I could leave the school. Today¡¯s parents wouldn¡¯t allow their children to leave school without a serious illness. But parents at that time weren¡¯t so concerned about the education of their children and my parents never scolded me for not studying hard enough. So I loafed around at home for a year helping at the store and came back to the school next year.
Though the distance became little shorter from Donamdong to Wangshipree, it was still more than an hour¡¯s walk to school. There was a transportation called Keedongcha (small electrical train) running a route from East Gate to Kwangjangree but I still had to walk over a mountain to Shinsuldong and walk to East Gate to ride this train. Therefore, I preferred to walk along the route of the Keedongcha rail road most of the days. Fortunately, since there was no hill on the way to the school, there was no more slippery climbing during the winter.
Because my school was to educate future elementary school teachers, they put a lot of stress on arts and physical fitness classes which I hated the most. There were more music, art, and physical fitness classes than other schools. Our art class teacher was Mr. Kyung-Chae Yoo, who was a very famous artist in Korea later and became a juror of the national art contest. He allowed us to use only big painting paper on a canvas as professional artists use, not small paper for the students. One day during a class, he beat a student in his face so hard he turned batty for a moment. The student surprised the principal by bringing some pieces of straw to the principal office, and said ¡°Mr. Principal, can you see a ghost in my hand?¡± Since his parents were members of the parent-teacher-association of the school, it was a big fuss. But everything turned out OK as it was only a temporary problem fortunately.
I remember one day I drew a Venus statue in an art class and tried my best on it. When Mr. Yoo saw my painting, he reproved me saying ¡°This is not a Venus. This is a lousy billboard of Kwan-Soon Yoo.¡± (A movie of Miss Kwan-Soon Yoo, a patriotic girl who fought against Japanese occupation, was just introduced at the time at the theater and was very popular.) Then he tore my painting into pieces and told me to try again. I was so humiliated. I tried again but I believe the result was same, as that was the limit of my ability of painting.
When I became a 9th grader, the Korean War broke out and we evacuated to Pusan. I had to attend the school at Pusan Normal School in a tent class room to complete middle school education of Seoul Normal School, temporarily moved to Pusan Normal School campus. This way, I finished 3 years of the same middle school in 3 different campus at different locations every year.
¡¡