¡¡
Samsung Home Appliances Division
¡¡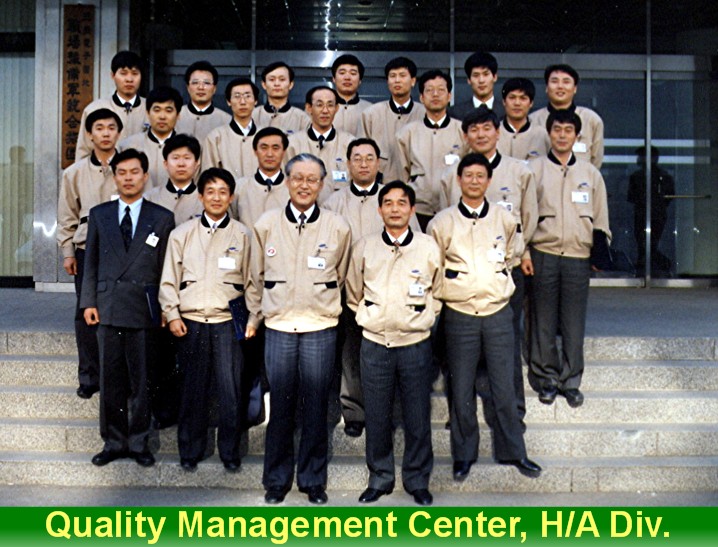 The Home Appliances Division of SEC (Samsung Electronics Co.) was a lot larger organization in Suwon Plant compared to the Semiconductors Division, with about 45,000 employees in many independent Business Units such as TV, Video, Audio, Microwave Oven, Airconditioner/Heater, Refrigerator, Computer. Monitor (Computer Monitor) etc. each unit headed by Director or Sr. Director with each independent Design, Production and Quality Organinizations. It also had a central quality organization called" Quality Management Center" directly reporting to the President of the Division even before I moved in, which monitored qualities of all Business Units, sampling and testing their products regularly including some Japanese products purchased at the market.
I became the head of this QMC, Quality Management Center, and started to work for Home Appliances Division in Suwon Plant in 1992. On the first day of my work, Administration Director complained about my salary increase as it was the highest increase in Samsung history. I told him what had happened at Chairman Kang's office, asked him to talk with Chairman Kang and he didn't say any more. This way, I had a large pay increase just once. But I didn't want to talk about my salary any more, they didn't adjust any more and the initial salary stayed there for rest of 4 years.
Since my performance at Semiconductors Division had been well known throughout SEC by that time and everyone knew I was backed by Chairman Kang, no one tried to say anything about my job including Division President and I could do the job as I wanted to do in Appliances Division too. Especially, Home Appliance Division had lot stronger influence of Japanse culture, which was more military style bureaucracy, while the Semiconductors Division was more influenced by American liberal culture. Here too, I started same 3 years plan of QIP, Quality Innovation Project, just as I did in Semiconductors.
I trained and brain washed QMC members first for more than a month through frequent meetings, emphasizing the importance of the Standard Operation, explaining the fundamentals of QIP and training how to audit the line operations. Then, I sent 2-3 auditors to the manufacturing lines of each Business Unit to audit. I also rotated auditors to different Business Unit every quarter to make the audits fair for every Business Unit so that there would be no complaint from any Business Unit.
In addition, I attended regular Quality Meetings of all Business Units as often as I could where I did my best to brain wash them to change their quality concept, and called Dept. and Section Managers' Meeting of each Business Unit myself once a month at least, informed what we have found through the audits with the progress of QIP in each Business Unit, listened to their opinions, forced to smoke together to make the atmosphere softer here too¡¦ etc. etc. This way, I think I had more than 500 times of this kind of meetings during 4 years in Home Appliances Division.
I explained why the Japanese quality is good. "Japanese are very sensitive for good looking and, if you go to a good Japanese restaurant and order same sashimi for many guests, they are very used to prepare every dish exactly same way – same place for each piece of food on the same shape dish, same color, same direction – beautifully. This proves they have been well trained for "Uniform Quality" for long time. Japanese dish is prepared for eyes while Korean or Chinese foods are for taste and volume without any interest on beauty or uniformity. We have to learn this Japanese culture to make uniform quality product which is the key of mass production."
I don't think I should repeat same story again as it was mostly the repeat of what I had done in Semiconductors Division. As the result, 3 years later, the quality of Samsung home appliances was improved almost to the level of Japanese products and most of the quality problems we had in 1992 had been disappeared. Therefore, we could tell customers our quality was same as Japanese products at least. The name of QIP itself was discontinued thereafter, but fundamental processes were continued indefinitely and Samsung quality had been improving continuously even after I left Samsung.
Most interesting happening while I was working in Suwon Plant was the visit of a Director from Secretarial Office of Samsung Group HQ, which was the most powerful organization of Samsung Group. This was the only case I met a guy from Secretarial Office in more than 10 years in Samsung. This director asked me whether I had quality data of Japanese competitors. I said we bought some samples in the market and tested ourselves which data we had. He said he was not talking about our test data but the data of our competitors themselves.
I said it should be extremely confidential data in any company and I had no way to get it. He said we must have it to compare with the data of our products and I must get it somehow. He was practically asking me to steal the data which was ridiculous request to me.
Therefore, I said "I have worked so many years in various plants but never concerned about the quality of other companies. Even we know our products have much worse quality than other companies, there is nothing much we can do in short period as our technology must be limited any way. All we can do is to do our best to improve the quality as soon as possible. On the other hand, if our quality is much better than others, are you going to stop to improve our quality any more? This has been my management philosophy and I have been doing my best to improve operation and quality regardless what the others do.
However, if you really insist me to get the data from Japan, let me have about 20 smartest guys. I will send them to American CIA for training for a year or two and send them to Japanese competitors to steal their data."
What a face he showed me!! He left my office so mad I believe. The guys from Secretarial Office had been always most scarey guys for even the presidents of Samsung, but this fearless Director made him mad. The QMC Dept. and Section Managers who watched the incident were surprised and amazed so much, and could not say even a word. I told them "If I do not show up tomorrow to my office, you may consider I have been fired." However, nothing had happened and I heard nothing from him ever. Probably, he was shamed and could not even report to anyone in his office what had happened in my office.
Home Appliances had so many different products which use tremendous number of components which quality influences final product quality directly. Therefore, the components quality had been a big problem always and I visited Samsung Electrio-mechanic Co. at very next door producing many components for home appliances products and Samsung Electron Tubes Co. in Yangsan near Pusan producing picture tubes for TV and computer monitors, once a month at least, and did my best to brain wash them and to establish basic quality control system there too.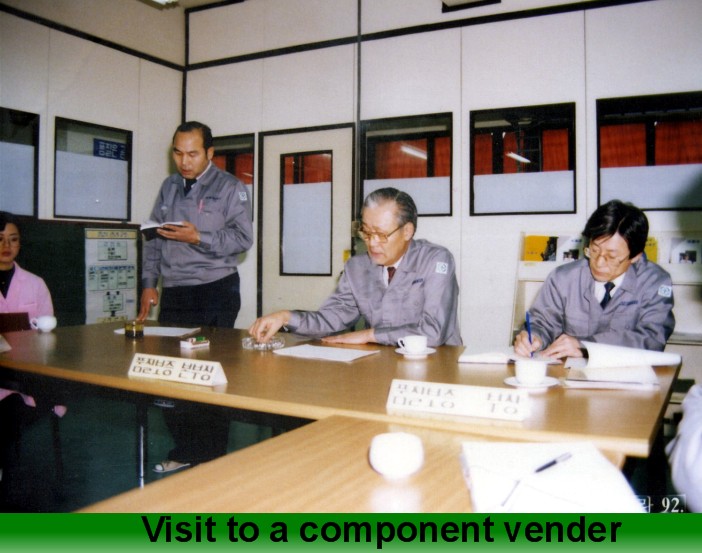 In addition, there was an organization called "Sung-Jun-Hoe" (Star Electric Society - named from the name of Samsung meaning "Tri Star") with a few tens of component suppliers to SEC. I spent quite a time visiting these companies too frequently, inspecting their lines and lecturing to staffs about the quality. One time, SEC invited all Presidents and Directors of the member companies to Shilla Hotel in Cheju Island for 5 days and had workshops with them, all paid by Samsung. I went to Checju every week for 4-5 weeks to have a lecture to them about the quality. On the last week, I took Jane to Cheju and stayed few more days after the official program.
During the lecture to them I said,
"You guys might think you are competing with Korean competitors each other. However, Samsung is competing with Japanese, not Korean, in the world market. To win in this fierce competition and survive, we have no choice but to produce quality products equal to at least or better than Japanese products and component quality is an absolute key to the final product quality. Therefore, if we can not get components of good enough quality domestically, we have to buy Japanese components regardless we like or not, which means you are practically competing with Japanese components manufacturers. These will become worse and worse as Samsung product quality gets better and better. Any company, realizing this fact, improves quality would survive but anyone who doesn't care about the quality just looking for short term profit only would not be able to survive very soon. If you guys do not realize this fact and continue as you had been, I believe about 80-90% of your companies might have to be closed down in less than next 10 years." It was really a threat to them but many people came to me and said "It was one of the best advise we have heard. Thank you." during the break time.
While I was working at Home Appliances, the biggest event perhaps was so called "New Management" of Chairman Kun-Hee Lee. As he finished high school in Japan and studied college in U.S.A., he was quite different from his father Byung-Chul Lee, the founder and the first Chairman of Samsung and typical Confucianism cultured pro-Japanese Korean old man. I also heard his lectures a few times and the most important theme was "Globalization". He said Samsung would become a company witout nationality sooner or later, there would be all kinds of talented nationalities among Samsung directors and Samsung would be headquarted anywhere best in the world.
This was quite a strange word and surprise to most of Samsung people but somewhat similar to what I have lectured to the staffs saying "There is no more nation of Republic of Korea exists. There is only one nation in the world called Republic of Earth. Korea is nothing more than Korea County in State of Asia of Republic of Earth. We have to abandon nationalism as soon as possible. You are just one of member of the world of Earth. I am not a traitor to Korea but not a patriot to Korea either. I am just a cosmopolitan without nationality."
Samsung spent quite money for this "New Management" campaign. Not only all directors and the above but also all managers were sent to Samsung Training Center many times and many directors and the above were called to Japan, Europe and United States to listen to the lectures of Chairmman Lee several times which must have cost a lot. One time, all SEC Business Unit Heads were called to L.A. and asked to find their products in the market, which they had hard time to find as Samsung products were not popular in American market in spite they thought they exported a lot to U.S. market. He asked directors to buy their own products, displayed together with Japanese competitors and made them to realize how their products are poorer and unpopular in American market.
It seemed this "New Management" campaign had created some amount of mentality change but did not contribute much for the innovation of the management as it was supposed to be. It was no more than a wonderful idea of the "Emperor of Samsung" and waisted a lot of time and money without much result. To make it really successful, the Emperor himself had to be changed first to lead the people. However, he asked everybody to be changed repeatedly without he himself was changed at all. About 6 months after the campaign was started, I went to Samsung Medical Center for an annual check-up and was asked not to get out the X-Ray room as the Emperor was passing by. Why can't I go out just because the Chairman is passing by? It was nothing but a great show and nothing could be changed this way.
It takes usually continuous effort for quite a long time as the story of Thomas Edison. One day, a guy asked to Edison "What would be the shortest way to change people's mind?" and Edson replied "Wait for 3 generations." (Because everyone today will be dead by that time.) This story tells us it is so hard to change people's mind. For me, it took more than 3 years just to implement the Standard Operation in Semiconductors Division only. Then, how long would it take this great but very strange "Globalization" idea of Mr. Lee in entire Samsung group, thoug it is not an idea of a Sr. Director but the Chairman of the group? I didn't believe it could be done in a year or two.
Any way, the result was I never heard any new foreign director was hired in Samsung, the only foreign director of SEC in charge of legal patent issue against TI had been promoted or treated better nor any General Manager of oversea branch had been switched to local people, until I left Samsung. I was not sure what the so called "Globalization" of Samsung meant. It had just decorated a part of Samsung history beautifully without much actual change of the company. When we were trained in Samsung Training Center as a part of Globalization training was how to hold folk and knife at the dining table, which might be the right manner in old England but not in California any more. Rather than that kind of education, wouldn't it be far more effective for Globalization, if we repeat "Korea County, Asia State, Earth Republic" hundreds of times?
I was not sure whether it was a part of this "New Management" campaign or not. One day, it was ordered from Samsung HQ to ban the smoking in all buildings of Samsung. By this order of Emperor, all ash trays had been disappeared from all offices instantly. Well, I could not live without smoking and I continued to smoke in my office regardless what the Emperor said. However, no body said nothing and Sr. Director Cho was a trouble maker of SEC any way.
I had traveled a lot in Semiconductors to visit customers in U. S. A. and Europe. However, in Home Appliances, as customers are all consumers, I didn't have to visit customers. Instead, I still had to travel a lot visiting oversea plants of each Business Units, mostly in Southeast Asia and Europe. This time, I stayed mostly for a week, some times for 2-3 weeks, once a quarter at most for one plant to educate people there. Because it was practically impossible to implement Standard Operation by this kind of short visits, what I did was to look around the plant, take anything wrong with video camcorder and explain them what to improve showing the video tape. It was also impossible to figure out by data how much they had made improvements. However, since many Heads of Business Units asked me to go often and I was always welcome by the plant managers whenever I visit them, I am sure I had helped them a lot.
For Europe, I went a TV plant in Winyard, England often, not too far from London, which was manufacturing TV sets, the major product of Home Appliances Division. The England had such a high unemployment rate at the time and any foreign investment was so welcome always. One day, I heard BBC repeating a news about Gold Star opened a new plant for 600-700 employees as a big news for whole day. Therefore, when Samsung opened a new factory in Winyard to produce TV and Microwave Oven in addition, Queen Elizabeth attended at the opening ceremony. Samsung was one of the most popular company in England at the time, but when Samsung closed down all factories in England later, I heard Samsung people in London were so ashamed and could not walk around.
An interesting story I heard in England was an old man is scarier than police when you violate traffic regulation. Once a reckless driving is found by an old man, he will follow you all the way and lecture you for an hour or longer. It was a reasonable story which could be possible only in a gentlemen country of England.
England was the country where the mad cow desease had been started. When I was in England once, people didn't want to eat not only beef but pork too. A Korean restaurant in London was serving chicken BBQ as they could not use beef or pork for Korean BBQ, and it was my first time to eat chicken BBQ.
As golf was very popular in U. K. with so many golf courses, Korean Samsung expatriates were playing golf more than any other countries. Therefore I played golf in England more than any other countries at week ends including several links courses at sea shore.
One day, we finished golf at around 2 PM at a nice golf course. Since we didn't have a lunch, we were very hungry. We went to the club house to take a lunch but were refused because of dress code. It might be a custom of gentlemen country but who the hell would bring formal dress to play golf? Well, the regulation was regulation. We went to the town to have a lunch but, there too, all the restaurants were closed for lunch after 2 PM. We were really starved to death but it was the gentlemen country. You have no choice but to follow the rule. Fortunately, afther checking a few restaurants, a kind bar manager in one place prepared a simple sandwich and we could barely avoid starvation.
One more golof experience since I am talking about golf. I played a golf in Frankfurt, Germany once. It was very cloudy day when we started the golf. At one of PAR-5 long hole, there was some blue sky when we teed off at the tee ground. When we hit the second shot, a light rain started. When we hit the third shot, it was much heavier rain. It changed to the snow when we approached to the green and, when we finished the hole, the snow stopped and we could see some blue sky again. During this about 15 minutes of playing through about 500 yards hole, we could experience all weathers and European weather often changes so fast.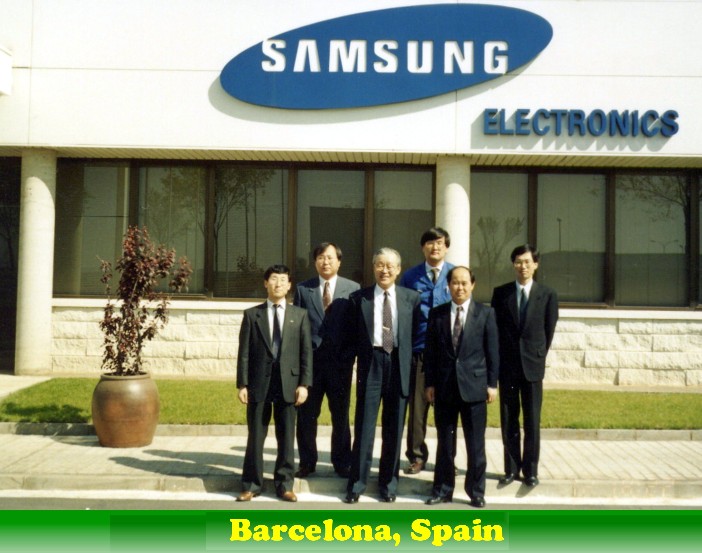 Dr. Blasi, the General Manager of Samsung VCR Plant in Barcelona, Spain, was the only local man among so many Samsung oversea plants and he always welcomed me because he could communicate with me in English easily most of all. I visited this plant often and whenever I visited, he took me to the best restaurants in the city. However, the food was always so salty in Spain. Though we said "No salt. No salt" wherever we go, the foods were still too salty. I was invited Dr. Blasi's home a couple of times and became familiar with their families too. Even after we both quit Samsung, we had still communicated through e-mail, they visited here last year and I took them around bay area for sightseeing.
The northeastern part of Spain where Barcelona is located, have been an independent country called Catalunya but Spain occupied it making a part of Spain. However, Catalunyans are extremely proud to be Catalunyans rather than Spanish and they hate Spain so much. Dr. Blasi sent heir children to France for education just because they didn't like Spanish education. I wanted to see bull fight and flemingo dancing since I was in Spain but Dr. Blasi said "They are Spanish culture, not Catalunyans" and didn't want to take me there. In Spain, golf was not too popular and I played only one round of golf in Barcelona with Korean General Manager of Samsung Sales Office in Barcelona .
Since the founder and first chairman Byung-Chul Lee had emphasized about human resources to be the greatest asset of the company, Samsung spent quite a money for training and education of employees. The most amazing program was "Regional Specialist Program". Samsung gave $50,000 to 200 – 300 selected employees every year and asked them to go any country they like, stay there 5 years and do whatever they like to do spending all $50,000 there before they come home 5 years later. There was no special goal to achieve nor checked the mony where they spent. They spread all over the world not only U.S.A. or Japan but also Vietnam or small undeveloped small countries in South America and Africa . I don't think any other company in the world would have this kind of generous program for the employees. All Samsung asked them was to learn local languages, history, geography and culture etc. to become expert of the country and to make friends in the country. I went to Madrid from Barcelona once just to spend a week end and was guided by these "Regional Specialsits" in Spain. They were the best tour guides, much better than any tour guide of travel companies.
In addition, a Korean expatriate in SESA (Samsung VCR Plant in Barcelona ) took me once and drove along the Meditteranean coast to Marseille, Cannes, Nice and Monaco, but I got the impression that Nice beach, so popular in Europe, was not any better than many Californian beaches. It might be so famous just because it is too cold and rainy in most of the Europe contries. I went to casinos in Monaco too but was very disappointed as they were even much smaller than Lake Tahoe or Reno in Nevada, though it was still interesting to me as it was some different city in Europe .
Samsung had a TV plant in Budapest, Hungary. When the door to East Europe was open, Samsung launched this plant prior to any Japanese company and the General Manager put a special effort to advertise Samsung and Korea to Hungarian people. As the result, he could succeed to give great impression of Samsung products to the local society as they are superior to any Japanese products including Sony or Panasonic.
When I took a plane to Budapest, I was surprised as a passenger next to me asked me whether I worked for Samsung as he noticed Samsung logo on my buckle. I asked him what kind of business he was in, expecting he must be working in electronics business, but he said he has nothing to do with electronics business and everybody in Hungry knew Samsung.
I found later arriving at Budapest airport that all carts in the airport had Samsung logo and, at the top of stadium dome, there was a huge Samsung logo too. Samsung also supported annual marathon, giving away few ten thousamds of T-shirts with Samsung logo who ran for the marathon, and gave scholarship fund to the most famous university in Budapest.
In American continent, there were TV plant of SEC and components plant of Samsung Electro-mechanic Co. in Tijuana, Mexico, just cross the border from San Diego. I visited 2-3 times a year there through San Francisco , though Tijuana is much closer from Los Angeles , to see my sons and friends in Bay Area for a few days on the way to Tijuana. I stayed always at a hotel in San Diego and commuted to Tijuana from San Diego by car and all Samsungs expatriates lived in San Diego too.
Semiconductors Division was somewhat Americaned as the technology came from U.S., while Home Appliances Division had a lot of old custom remained. Everywhere I visited, the General Manager reserved a suit room of top class hotel for me always as the courtesy to a Sr. Director. At first, I asked not to do as I didn¡¯t spend much of time in hotel but to sleep in the night, but they said it was the general practice of the company for Sr. Directors. Since I couldn¡¯t stop it every time and it didn¡¯t cost me a penny, I gave up and stayed in luxury hotels.
One time in Bangkok, a hotel called Shangrila Hotel was reserved for me which was supposed to be one of the best hotel in the city. There was a living room about two times larger than bed room which was large also with two king size beds.
The room was this great but I checked in the hotel late evening, as I arrived Bangkok at early morning on the way from Indonesia to Seoul, directly went to the SEC plant and had dinner with SEC people before I went to the hotel. Since I had to catch early flight to Seoul next morning, it was really a waist of money to stay in this expansive room of expansive hotel. Well, what can I do? I was working for wealthy company any way. I fell in sleep at around 11:00 PM.
I woke up by telephone bell and found it was about midnight. It was a telephone operator of the hotel asking what time would be the best to call me for wake-up call. I didn¡¯t ask wake-up call. What kind of hotel is this waking up the guest at midnight for this kind of stupid question of wake-up call which I didn¡¯t even asked for? Well, she did it for a special kindness to the guest. I tried to sleep again after I hung up the phone.
I think I almost fell in sleep. Another telephone bell woke me up again about an hour later asking same question by another hotel operator. This was supposed to be the best top class hotel in Bangkok and operators were waking up guest twice in the middle of night for same stupid questions!! I was really mad and shouted ¡°Is it you girls¡¯hobby to wake guests up in the middle of night? Where is your manager?¡± It seemed she was really shaken up and said there was no manager around. Well, what can I do? I just hung up and tried to sleep again. I wrote on the questionnaire sheet in the room ¡°I have never seen this kind of lousy hotel in my whole life. Not only myself, but also I will ask none of my friend to stay in this lousy hotel in the future.¡± and left it on the front desk when I checked out next morning. It semed this was another problem of excessive kindness in underdeveloped countries.
Since Southeast Asia was usually too hot and I sweat a lot under hot weather, I didn¡¯t play golf usually in Southeast Asia, but just once in Bangkok . I didn¡¯t know what had been arranged by the General Manager there, but I had a caddy, a woman carrying a parasol and another woman to carry a portable chair. Because there was not much time to sit during the golfing, I didn¡¯t use the portable chair too often and she insisted me to sit every moment I was waiting for other players. However, I learned the total cost for all these three were cheaper than one caddy cost in Korea at the time.
I was not too much interested in famous Thailand sightseeing as I had been to most famous places in Thailand already during my Southeast Asia trip with Jane together at AMI in 1978, but there were still some palces to go such as elephant show and an island called ¡°James Bond Island¡± in Phuket which became very popular to sightseers after the 007 movie of ¡°Gold Fingers¡± was taken. We had to drive for a while by car from Phuket and took a boat for a while to go to ¡°James Bond Island ¡±. It looked like quite a big island in the 007 movie but it was really a tiny island actually. The beach James Bond landed with his aircraft was too small to leave an aircraft there. However, it was very interesting island to recall many scenes of 007 Gold Fingers movie.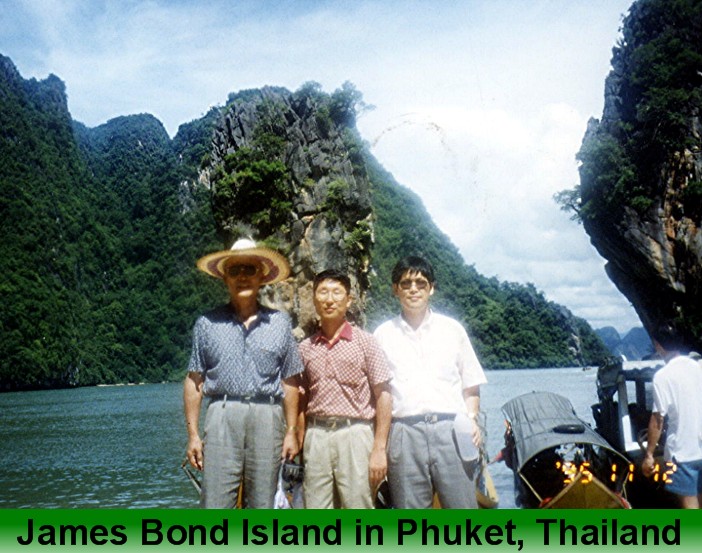 What I can recall at the best was a trip in Indonesia. There was a refrigerater plant of SEC in Surabaya , the second largest city in Indonesia at the eastern part of Java Island. I went to the famous Bali from there too but went to a mountain with volcano in a weekend. It took about an hour of driving to get there and we had to take a horse ride to approach to the volcano, which was my first experience to ride a horse.
Soon, there was a wide flat area and we had to ride horses for about 1km one way to get to the center of the mountain where the inactive volcano was. There was no lava and some smokes were still coming out from the volcano now.
The problem started when we took horse ride again for another 1km and got back to the car. As it was my first horse ride even without proper saddle but a blanket, my buttocks started to be painful, I couldn¡¯t even sit well and I had quite a hard time with pain for several days.
I didn¡¯t go to Southeast Asia too often as I didn¡¯t like hot weather and the consumers there didn¡¯t have much complaint for Samsung products. I rather went to China more frequently for TV plant in Beijing , VCR plant in Tienjin and audio plant in Hyejoo. Beijing TV plant was originally owned by the government, as all enterprises in China were government owned, which Samsung bought 51% of the share. However, there was the condition of the purchase that all employees had to be kept without any labor reduction, as the Chinese government had to employ 100% of their people somewhere to feed them. There were several thousands of employees working in the plant out of which 80% were excess people according to the Samsung Suwon factory standard.
Samsung had no other choice but to keep all these excess people in the plant extending assembly line a few times longer than Suwon plant to assign less work load for each operator but to hold more people in the line. Because of cheap labor, the labor cost was still cheaper than Suwon plant with these many prople. However, the primary objective to invest in China for Samsung was not only cheap labor but to penetrate into huge market of China as early as possible. As the result, there were too many idling people, talking each other, taking nap on the floor and just walking around the working area. It was not the situation to talk about the productivity nor quality. And this was the problem of communist country.
Since the Sr. Director of Quality was there, I had advised many area to improve the quality under the situation and suggested to arrange all operators into 4-5 groups to work only once in 4-5 weeks as we are paying wages any way regardless they work or not. However, the answer was ¡°No¡± due to some unknown reason or Chinese custom. (I think it was because of fairness to other workers in other government operated companies.) I have learned a lot of these things have been changed now but I wonder how they have solved this problem. Without solving this kind of problems, I wonder how they can compete in world market now. Any way, the China at the time was really ridiculous.
In contrast to this Beijing plant, our Tienjin VCR plant was 100% Samsung investment and was built by Samsung based on the standard of Suwon plant. Therefore, it was not much different from Suwon plant but it was rather cleaner and more efficient as it was a new plant, which I could train same way as I had done in European plants.
Visiting Beijing and Tienjin plants, I visited several famous tourist spots such as Sojoo, Taesan and Shanghai etc. However, there were not too much interesting places to see other than Beijing and Great Wall. I heard there are many newly developed beautiful places to visit in China now but it was hard to find any places to interest me at the time from tour books other than Xian where Emperor Jin built a great palace long time ago. I thought about the trip to Xian a few times but didn¡¯t go there because I could not trust the safety of Chinese domestic airlines at the time.
In 1995, Jane came to Beijing after my official work of the trip is over and I showed her around for 2-3 days. At that time, unfortunately, several Samsung VIP were happened to be in Beijing and all Samsung Beijing people were tied up to VIP visitors and they gave us a company car only without anyone to guide us with a local driver who ddidn¡¯t speak English at all. We used Chinese language we had learned in Taiwan whole day with the driver but could communicate with him somehow during the day.
¡¡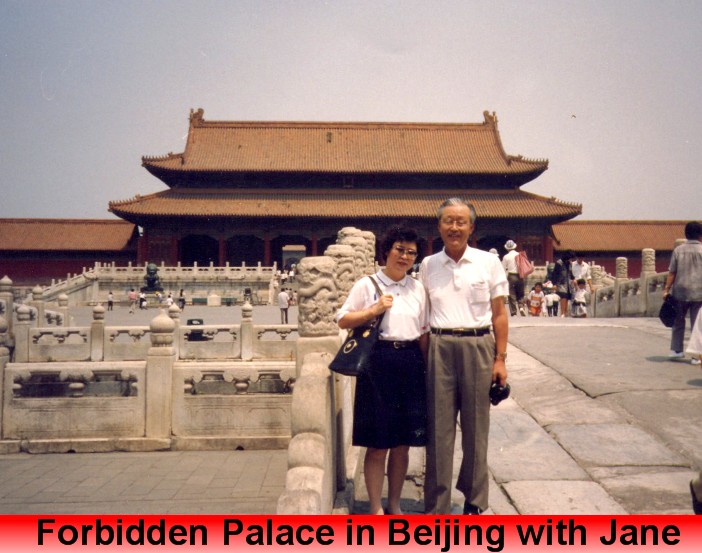 To go to Hyeju Audio Plant, I had to fly to Hong Kong, take a train to Shenzhen, cross the border to China and drive about an hour north to arrive at Hyeju. The General Manager of this audio plant really liked me and invited me quite often as he said they are learning a lot from me. I planted a memorial tree in the front yard of the plant by his request and I wish it is still there growing.
¡¡
I took Jane here once and received a great entertainment from the General Manager. As Hyeju is a rather small city, the best hotel there was something like a third class hotel in big city, though I always stayed in a suite room with two large rooms. Since Jane was coming too, he removed all hotel home appliances and installed all Samsung products of TV, audio set, VCR etc. which greatly impressed Jane. He also took us to the best restaurant in the city, ordered most expensive foods such as lobster and also gave a large and beautiful Chinese vase as a gift to Jane. He also came along to Shenzhen when we leave Hyeju, showed folk village there and played a round of golf together in Shenzhen, which were all so impressive and luxury to Jane.
It might sound like I was doing not much for the company but playing around with company money. However, I wish you do not misunderstand. All these enjoyments were done during weekends only after I worked hard in the plants during week days.
During my work for more than 4 years in Home Appliances Division, I had enjoyed quite a luxury life but, as we could improve the quality of our products upto Japanese products level, I believe I had done more than I was paid for.
In 1996, Samsung purchased an American computer company called AST Computers in Irvine, California and I was asked to go there to improve their computer quality as it was very poor. It looked like I was a firefighter moving around wherever there was a fire and I accepted the proposal as it was 10 years since I came back to Korea (2 years plan originally), I didn¡¯t need to worry about school education cost of kids any more as they had all been graduated from colleges and I wanted to go back to U.S.A. whenever I had a chance to go back. I returned to California this way in 1996 after 10 years of living in Korea .
¡¡