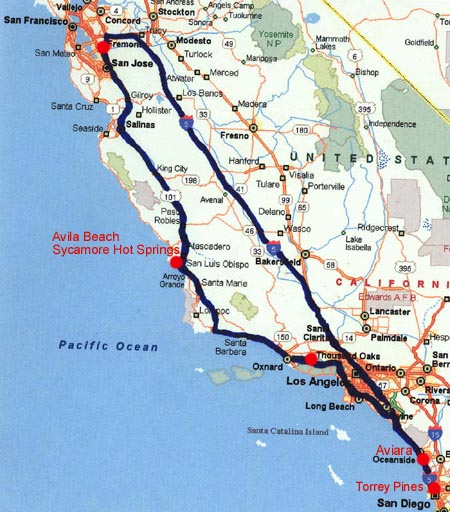 Southern California Golf Trip
D. I., Jane and Mr. and Mrs. Shim left home on the morning of 10/27, driving down Highway 5 all the way to Los Angeles. They had dinner with Johnny and Mr. and Mrs. Hyung-Suk Song, an old Ham Radio friend from Korea (HL1CG), in Los Angeles Koreatown. After dinner, they drove further south to La Jolla, just north of San Diego, where Torrey Pines Golf Course is located.

The next day, they played golf at Torrey Pines, staying at the Hyatt in La Jolla for two nights. On the third day, they played at the Aviara Golf Course in Carlsbad, just a 20-minute drive north from La Jolla. After the golf game, they drove to Seal Beach to visit D.I.'s second oldest Sister. They then drove to Santa Monica, in the western part of Los Angeles, where they had dinner once again with Johnny before driving to Thousand Oaks to stay the third night.

On the 4th day, the four travelers drove for about two hours to play at the Avila Beach Course. They spent the last night at the Sycamore Hot Springs Resort, relaxing in the hot tub before returning home the following morning. They covered 1,030 miles during their 5-day trip.