¡¡
First American Life at AMI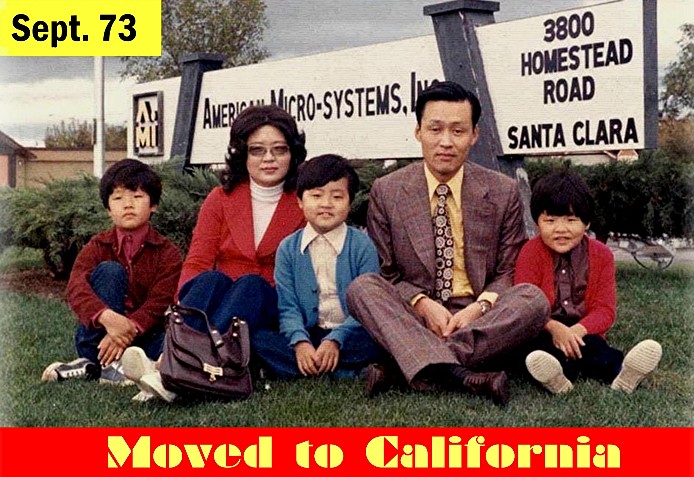 Our family boarded airplane saying ¡°Good Bye¡± to relatives and KMI friends on Sept. 15th., 1973 at Kimpo Airport of Seoul with just a few suit cases and $800 U. S. Dollars (The foreign currency was very tight in Korea and we were allowed to exchange only $500 for the family and $100 for each child.) and arrived San Francisco Airport to start the first American life with family who have never seen foreign country
Because it was the contract to live in United States for two years only and return to Korea thereafter, we couldn¡¯t buy either house or car just for two years only. Therefore AMI provided housing and a car. AMI paid all house rent, furniture rental and expenses for a leased car including gas, maintenance and insurance etc. etc., When we arrived, one of AMI manager picked us up at San Francisco airport, took us to a small apartment AMI had already rented for us temporarily with a leased car parked at the apartment parking lot and asked us to look for better apartment whichever we would like to live in. Since we went to United States this way, we were so easy to start unfamiliar first American life compared to most of Koreans who had to start by themselves with their own money.
As I have been driving a car for 6 years already at Semikor and KMI in Korea and had a Korean driving license, there was no problem driving in the United States. However, when I looked at the California Driver's Handbook obtained from DMV (Dept. of Motor Vehicles) to get American driving license, it said any one from foreign country for temporary short visit may drive in California without California driver's license but with his/her own country's license, which I couldn't believe. Therefore, I called DMV and asked "I came from Korea and have a Korean driver's license. However, it is all written in Korean only and you guys would not be able to even recognize it as a driver's license. All you could recognize might be my photo only perhaps. Can I drive with this Korean license?"
The answer of DMV really amazed me. "If you do not cause any accident and do not violate California driving law, we don't care whether you have a driver's license or not. If you cause any accident or violate our law, some body in DMV will translate your license as we have so many people from so many different countries. Don't worry. Just go ahead and drive carefully."
What a wonderful logic and practical interpretation of the law!! It was so different from what we had used to in Korea saying "You need driver's license just because law says so." But what he at DMV was saying was : "You need driver's license for safe driving and, as far as you are driving safely, we don't care about driver's license itself." It was really another cultural shock!
My job at AMI was primarily to improve the problems we have experienced in KMI due to lack of understanding of American people about Korea, answer many questions of Americans about Korea and KMI, check KMI Telex every morning, which reports daily production report as well as what happened yesterday in KMI with many questions and requests of KMI people, send Telex to KMI every evening with answers from AMI people for these questions and requests, attend meetings to discuss subjects related to KMI etc. etc.. (We used Telex mostly and, because international telephone was so expensive and hard to call, it was limited only when it was absolutely required. What a different world compared to today.) My title was KMI Support Manager and I had one American guy reporting to me. Fortunately, it was not really a busy job.
The first problem I had started to work was the invoice problem. AMI shipped a lot of raw materials for KMI. However, the invoice had a few simple calculation errors of "Unit Price x Quantity" always and caused a serious problem at the bureaucratic Korean customs every time. We had to bring blank invoice sheets from AMI, forged AMI invoices correcting these errors and replacing AMI's original invoices before we submit to Korean customs for the clearances.
I thought this would be the easiest task to solve. However, soon, I found it is practically impossible task to solve. I checked every invoice with calculator myself before it was shipped, found a few errors on almost every page, summarized the errors found and reported to the VP Manufacturing with the copy to VP, Director and Manager of Shipping Dept., making quite a noise in whole company. But all I could get was "Sorry. We will correct" from manager of Shipping Dept. without any improvement at all actually.
After all kinds of my best effort to fix the problem for more than 6 months, I had found a fundamental problem of American society and had no choice but to wave white flag. First of all, invoice for international shipment was usually prepared by a college graduated accountant in Korea or Japan while any college graduate would submit resignation if he/she would be asked to prepare invoice in the United States. The guy who prepared invoice in United States was most likely a guy finished elementary school only, almost naked of upper body with headband on and doing hard job of packing too. Therefore, if there would be no mistake, it would be a miracle.
In addition, every box of every shipment is usually inspected in Korean customs while U. S. customs were inspecting only a small number of shipment based on random sampling, as there were too many shipment coming in to the United States every day perhaps and most of the shipment were cleared through the customs without any inspection. Therefore, no one paid much attention to the accuracy of invoice any way, which was good enough for U. S. customs. However, once some illegal clearance attempt was found at the sampling inspection, that company shipment was 100% inspected until they were confident that they were not cheated any more, which was even tougher than Korean customs.
I had learned through this work that it must be possible in United States as it was a society trusting each other at first until it is proven that he/she can not be trusted, while it was the other way around in Korea (Japan or china too) that we trust no one until we are confident we can really trust him/her.
Any way, this was the situation in American society and I had concluded six moths later that there was nothing not only I could do but even president of AMI could do. I informed KMI that they would have no choice but to continue to forge the invoice and this was one of very few subjects I had to give up without success in my life.
On the other hand, Jane looked around to find right apartment for us. In two weeks, we found better apartment in good school district for children and moved to new apartment. (In United States too, we have learned many parents who are concerned about children's education, especially Orientals, prefer good school districts and house prices in good school district are more expensive usually.) Though children started American school without knowledge of English at all, they taught slower than Korea and children had no big problem at school class for a while. In six months, they started to talk English each other and, in a year, they spoke better English than me. I realized again it is really helpful to learn foreign language at early age as much as possible.
I really respected American school teachers very much as they were mostly aged ladies who really loved children and took care of our children so well who could not speak English at all. I was amazed the principal of the school too with casual dress walking around, playing with children and picking up any dangerous items or garbage in the playground, which was so different from Korean school principals.
Since we were going to live in the United States for only two years and I wanted them to learn English as fast as possible, I didn't stop children watching TV for a lot of hours a day and I started to talk with them in English as soon as they started to talk English. Since then, we are used to talk in English and I am talking with my sons in English now.
As there were so many beautiful places in the California and the West, while there were more man-made cities in the East, we had to look around all these places in two years and I love driving with the philosophy of "Enjoy Today", we visited close places like San Francisco, Monterey, Lake Tahoe, Yosemiti etc. at first where we could visit within a day. Then we visited further and further places at almost every week end. Especially, because Yosemiti and Lake Tahoe were so beautiful places within 4 hours driving distance, we visited there so many times whenever there were KMI visitors as a one day trip.
At first, I had to drive car myself always as Jane could not drive. I was told from American friends "you have to expect divorce if you are going to teach driving of your wife yourself." However, I trained Jane at a parking lot of nearby junior college and she got her driving license in a month, which made my life much easier thereafter. I took her to a freeway on the way back home on the day she passed DMV license test which gave really a hard time to her. I did it intentionally to give her an experience of freeway driving, as I heard the story of an old lady who was so scared and could not drive freeway for her whole life.
Though we drove around with family, we drove a lot more with KMI visitors at company expense, as there were many KMI visitors who had never seen U.S.A. . Some times, it was a few days driving but some times for a week long drive all the way to Yellowstone National Park, Las Vegas and/or Grand Canyon . Now, I think I am a very qualified tour guide as we have visited most of famous places so many times and we joked I would work as a tour guide after my retirement.
Right before we moved to U. S. A., I read an article of a Japanese guy who stayed in U. S. for more than 10 years in a Japanese magazine. He wrote an American friend asked him whether he had driven crossing the U. S. by car. When he answered "No", his friend said "Then you don't know America yet.". So, he crossed U. S. from New York to San Francisco and found for the first time how large the United States is and how powerful fundamental it has.
Recalling this article, I joined AAA and planned cross U. S. A. trip as soon as I become little familiar to American life. I collected all maps and tour books from AAA and spent about a year for a detailed plan where to go, where to stay in which hotel or motel, which road to take, what time to leave in the morning and what time to arrive at destination of the day etc. etc..
Now I was ready to go for this greatest trip in my whole life. However, to travel with 5 family members for more than a month, it seemed the station wagon must be much more convenient than the Ford Torino passenger car we had, though it was a big car too. After one year since we came to U. S., I asked AMI to lease a new car and switched car to a Ford Country Square station wagon. Since AMI paid all gas, maintenance and insurance of the car, automobile expenses were no problem. However, other travel expenses such as lodging and food etc. would be quite an amount too. I went to my boss, Mr. Charlie Isherwood, VP Manufacturing, and started to negotiate.
"I understand, when American company sends expatriate to foreign country, there is a provision called home leave and the company pays air fare of whole family once a year usually. Do you have same provision in AMI?" – Answer : "Yes"
"Now, it is the second year in the United States for us. Shouldn't we have this benefit by now?" – "OK"
"The round trip air fare of our 5 family members to Korea would cost about $6,000. (There was no such a deep discount air fare and it cost about $1,200 per person at that time.) Now, I would like to propose to split this cost with AMI half and half because I would like to have this money spent for cross U. S. A. trip to learn, experience and understand U. S. better rather than to take a home leave to Korea. Could I have $3,000 in cash for this trip and AMI retain $3,000?" – "OK"
"According the AMI regulation, all employees can have a vacation up to 20 days a year. I was so busy in KMI for 3.5 years but never had a vacation there. Can I have 25 days (= 5 weeks) of vacation now to compensate it?" – "OK"
This was how we started this greatest trip in our life and completed around U. S. A. trip for 5 weeks driving 11,200 miles (about half the distance around the world) passing through 27 states from Santa Clara to New York, to down south to Key West, Florida and through New Orleans and Las Vegas (6/14 – 7/18, 1975), which was 100% paid by AMI practically ($3,000. was more than enough to pay all travel expenses as the gas was charged to AMI provided gas company credit card, Holiday Inn was $30-$40/room a night at the time with "Kids eat free" program and McDonald "Big Mac" was only $0.99/meal).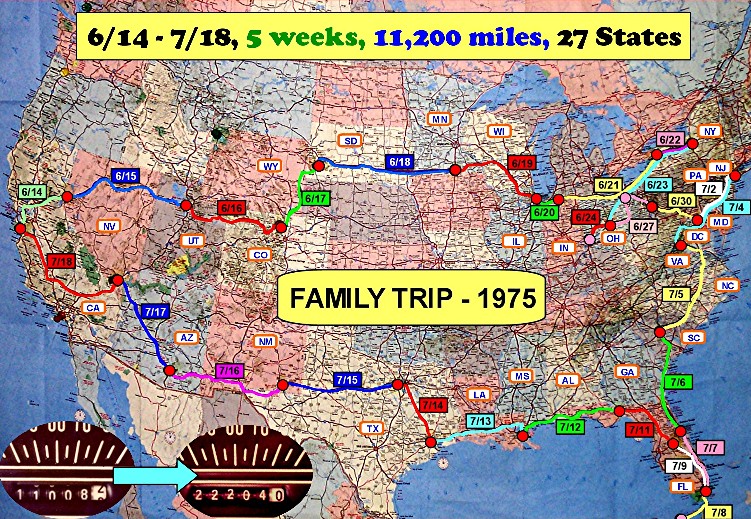 Because it would take a book to talk about the details of this trip, I would not describe it here. However, it was really a wonderful trip, every family enjoyed very much every day and we had learned al lot about this great country of U. S. A.. I also have found it is not that easy trip to take for every one as you have to have relatively new big car, you can take 5 weeks vacation from your job and it costs quite a bit of money too. Not only that, all of your children should be at elementary school age, as younger than that ages, it will be a hard work for them rather than enjoyable and, older than that ages, they all have their own lives and do not want to have long trip with parents.
What we have learned by this trip were : the United States is really a large country first of all (San Francisco – New York is about 3,000 miles which require non-stop driving of day and night for at least 3 days, about the distance from Seoul to Singapore), it looks like 95% of the United States is still untouched wild area yet, though it is one of the most civilized country, how amazing it is that old pioneers have crossed this continent from Boston to California with wagons passing through wild high mountains of Rocky and Sierra without road loosing more than half of their lives most cases because of so many Indian attacks.
Because of these pioneers and their lost lives, I believe we are enjoying this great society today. So many Koreans say Americans are lucky guys with so many resources given by god. I don't think they really understand the United States which has been established by so many pioneers devoting their lives and hard works for hundreds of years and it is not just a free gift from god. What if there was no pioneer from Europe in this country and only American Indians had lived in this country until now? Would it be still a great country like this today? No way. It would be even far worse than Mexico today.
We visited most of famous places and many relatives in the east coast during this trip. I learned a lot about the United States but it was a great opportunity for children too.
This trip was possible because it was the best time of AMI, KMI contributed to AMI a lot and AMI gave me a great favor. I believe I was again a very lucky guy. I think it would be possible only for the guy like me thinking "ENJOY TODAY" always and wonder how many Americans could do this kind of long trip. I planned cross Canada trip later days but could not make it, as all children were already grown up attending high school and did not want to travel with all family together as they had their own friends and activities.
Other than this trip, I stopped by Hawaii on the way back from KMI visit, asked Jane to come to Hawaii and spent a few days in Hawaii together which was the first Hawaiian trip for Jane and all paid by AMI as a part of an official KMI visit trip.
In 1975, when our two years are almost over in the United States , we invited Jane's parents and traveled around for two weeks. Any way, driving around and traveling were almost half of my life for two years as the company work was not that busy and it was just routine daily work without any special project to accomplish.
When our two years was almost over in March or April of 1975, AMI proposed me to go to Taiwan for another two years, establish a new assembly plant there and work as the General Manager, since there was no experienced guy for assembly operation in AMI and I was the best candidate in whole AMI. I have accepted this new challenge and we moved to Taiwan not returning to Korea in 1976.
¡¡¡¡