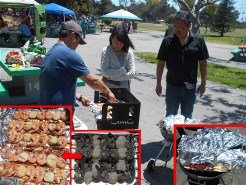 Happy Birthday of U.S.A. !!
7/4/19
As usual every year, we, the Cho Family, went out to have a BBQ picnic to celebrate the Independence Day of U.S.A. on 7/4, to "The Magic Mountain Reservation Areas" of "Coyote Point County Park" in San Mateo this year, just little south of San Francisco Airport. Willy came from Seoul, Korea on 6/27 to return to Seoul on 7/8, and Johnny drove up from Los Angeles on 7/3 to return to L.A. on 7/7, Sunday. It was a wonderful party with all brothers and 2 kids (not the kid any more !!), Andrew and Dylan who will start the 2nd. year of college after the summer vacation.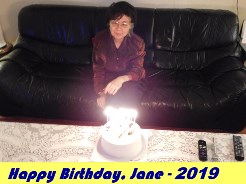 Happy Birthday, Jane - 2019
 
We had a great birthday party of Jane on 1/19 Sat. though her real birthday is 1/24
as it is Thursday, a working day. Willy came from Seoul, Korea and served as the main chef.
Johnny drove up from L.A.. On the way, he visited Cal-Poly in San Lois Obispo, picked up Dylan
and came with Dylan together. He will drop Dylan to Cal-Poly on 1/21 on the way back.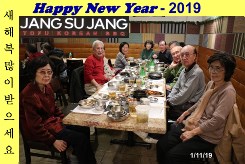 Happy New Year - 2019
KMI/AMI Alumni
6 couples of ex-KMI/AMI friends got together to celebrate 2019 New Year on 1/11/19
at Jangsujang, a Korean restaurant in Santa Clara.